Today I'm voting to keep a flag that I've wanted to change since I was six.

I'm so angry at the panel for making such a miserable selection and furious with Rt Hon. John Key for politicising the process by declaring a favourite early on and then blaming lefties for "bringing politics into it". I'm not choosing to keep because I dislike John Key, I'm choosing to keep because the Lockwood flag is hideous both subjectively (my view) and also under the objective lens of well established design principles. Being ignorant of these principles doesn't make them any less valid, it just means you ought to go and find out why we pay professionals to make logos.
So please stop telling me how I should be voting for something I find
repugnant just because you can't understand why so many of us hate it. Stop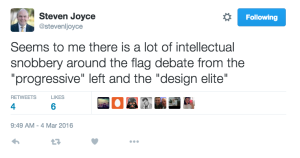 talking about how you want to "See change in your lifetime" like that selfish appeal holds water with anyone that has a holistic view of our species. Stop falling back on the crutches of anti-intellectualism that our proudly ignorant National party are wont to do, throwing out words like "snobbery" to try and shame us for our criticism. Lastly, don't you dare invoke Maoridom as a reason to remove the Union Jack when this referendum process was marred from the get-go by the same white-washing colonial exclusion that put that symbol on our flag in the first place.
I'm voting to keep first because the alternative is an eyesore and secondly because it ensures us the smaller window of time before we can try this process again and actually do it right. I want to change our flag and will vote to do so as soon as something worthy comes along.
It wouldn't be a true-blue Kiwi campaign if it didn't have a theme song penned by the legendary Dave Dobbyn, so here you go: