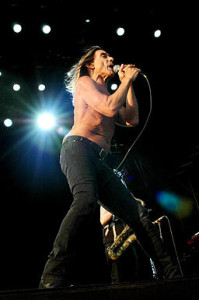 By Jonny Potts
If you do anything 'creative', you always have these ghosts around, trying to keep you in check. You invite them into your life, trying to incorporate and escape their influence. When I'm writing stuff, the ghosts are a pretty obvious list of smarty-pants jokers. Hell, some days of the week I might bolster that list with Mark Twain and Juvenal just to come across as Really Goddamn Cultured.
When I'm doing stuff on stage though, it's always Iggy. Not Olivier or Mingus or Lenny Bruce or some shit. Iggy Pop is my performance hero. There are people who are better at songwriting, singing, acting etc. etc. I don't care. When I see Iggy Pop bark the 'Swedish magazines' bit in 'Five Foot One' on stage or hear the straight up SNEERING FUCKING MENACE on 'Gimme Danger'… that's performance to me. It's an explosive consummation of talent, energy, daring, potential and it's making me shaky just trying to tame all this into words on a screen. For my money, Iggy is it. Iggy is the pinnacle of performance.
OK, make your cases for James Brown or Elvis or Prince or Michael Jackson. Tell me how much Iggy borrowed from Jagger and Jim Morrison and, I dunno, Howlin' Wolf. Now tell me how the rhythm and blues musicians who predated him are the real deal, and that the punks who came after him improved on the template. Oh, very persuasive.
If we accept that art and the appreciation of art is subjective, Iggy is objectively the best frontman of all time.
However, he appears to have a MOST inconsistent recording career. The accepted view is pretty much:
the first three Stooges albums are great,
the first two solo albums are great,
people like the song 'Candy' and people have heard his version of 'Real Wild Child' and won't switch the radio off it it comes on, and
people saw the film 'Trainspotting'.
I have recently listened to every studio track Iggy Pop has released, along with a good dose of live stuff and out-takes. I might have missed a B-side or two but I can't think from where. I did it in my own time and let myself listen to other folks too, because I'm not a masochist like these boys.

I would like to present, apropos of nothing and to no end, my findings on the recorded studio music of Iggy Pop. They are as follows.
No label would relase 2012's 'Apres' so Iggy did it himself. The labels showed great bravery and foresight.
Iggy's least palatable incarnation is crass metalhead 'Instinct'-era Iggy (c.1988). Luckily, this was immediately followed by his striking of the grisled leather firecracker curmudgeon pose he holds to this day.
AVENUE B is underrated, but the lyrics are by-and-large terrible. STOP PRESS: Sometimes they are raw and tender tho
A lot of Iggy's lyrics are very awkward
'Soldier' and 'New Values' are both good, solid albums
Talky Iggy stuff is generally pretty bad
Since about 1990, Iggy has been mostly complaining about predictable rock and roll through the medium of predictable rock and roll
Preliminaires is better than it should be
The new Iggy and the Stooges LP is really quite good, unlike The Weirdness, which is not good. However, on stage those songs do work, even though they are surrounded by classics.
It is impossible to defend the 1996 song 'Pussy Walk'
Or this lyric from 'Nazi Girlfriend': "I wanna fuck her on the floor/ Among my books of ancient lore." That's the opener by the way.
"Splish Splash I was/ Jim Jones" is a real lyric from a song on an album released commercially
'Kill City' was mixed by James Williamson from years-old Iggy demo vox to cash in on success of 'Lust for Life' and 'The Idiot' and is one of the best-sounding records of Iggy's career.
'Fun House' is the best album of all time
There is no evidence of Iggy ever performing 'I Wanna Be Your Dog' poorly at any stage in his career. STOP PRESS: I FOUND ONE

'Beat 'Em Up' is a dumb album, but it kinda rocks (see 'Ugliness' for proof)
The albums with bad covers are often surprisingly good. The cover of 'Party', for example, is a goddam disgrace.
It's obvious I know, but Iggy's 'China Girl' leaves Bowie's for dead. The song is actually ABOUT something when he sings it. Interesting Bowie kept the name 'Jimmy' in his version BTW.
I thought 'Zombie Birdhouse' would be awful so listened to it early to get it out of the way and now I love it from start to finish.
You don't want to spend too much time on 'Lust For Life' and 'The Idiot' but if you don't own them you may as well just throw away your ears I mean what the heck are you even using them for?
As I was told to expect, the Sum41 collaborations on 'Skull Ring' are better than the songs with the Stooges on them. Yes, Sum41. Here they are together "Nothing lasts forever/ When stupid turns to clever" indeed! (Whatever that means)
I really like 'American Caesar' and want the double LP for Christmas please.
TEN BEST IGGY LPs THAT AREN'T STOOGES ONES OR LUST FOR LIFE OR THE IDIOT
Kill City
New Values
Solider
American Caesar
Brick By Brick
Party
Zombie Birdhouse
Avenue B
Preliminaires
I don't know. Maybe even Beat 'Em Up? I don't feel good about putting Blah Blah Blah or Instinct on here.
But it goes without saying, the place to start is the five cast iron classics. I hope this has been the best thing you have ever seen on the Internet.
If you want to support the Ruminator, please consider making a donation via Givealittle.