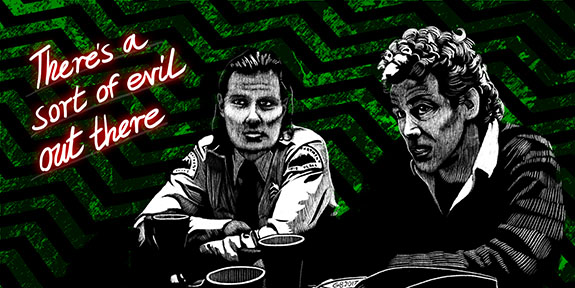 Have you drunk the #TwinPeaksRewatch coffee yet? Check the schedule at the bottom of this post – episodes three and four are on the menu this week!
Illustration once again by Grant Buist (@fitz_bunny on Twitter) of Jitterati infamy. Also enjoy his tweet-by-tweet journey through the episodes, linked below!
This week's piece is by Alasdair Sinclair whose blog My One Contribution To The Internet gives some of the sharpest film crit you'll find anywhere, covering everything from popcorn entertainment to film fest specials. Also books and TV and other interesting stuff. Highly recommended!
—
Even twenty five years ago we were drowning in various kinds of murder mysteries. It's a story type that reliably generates an interesting and self-contained episode, the basic currency of television until fairly recently. You start an episode with someone who needs killing so you can generate a corpse from the melee and you end with a murderer unmasked, preferably over a dinner rife with barely-repressed tension. Presiding over the action is some or other kind of great detective, all of whom probably aspire to being Sherlock Holmes one way or another. The supporting scaffolding and infrastructure are second nature to any avid television watcher: the murderer has left a breadcrumb trail of half-truths, inconsistencies, and physical evidence that can be carefully pieced together by the great detective to reveal their crime. The grand revelation is always a wonderful description of whodunit and why they did it. One way of thinking about the powerful appeal of the detective is that they swoop into the scene and take something aberrant, murder, and explain it. By the time the police are finally summoned to the scene, everyone understands that there was a perfectly good reason for everything that happened, based on one of the great human failings: Greed, Love, Jealousy, and Revenge.
Enter Special Agent Dale Cooper, our Great Detective, here to solve the murder most mysterious of local teenager Laura Palmer. His credentials are impeccable. He's got the requisite oddity about him, endlessly dictating to a mysterious "Diane" via tape recorder, with digressions to enquire about trees. He performs the mandatory Holmsian deductions, spotting Truman's relationship with the widow Packard, and judging innocence and guilt in a single short conversation. Yet, like the best of such oddball detectives, he has an instant rapport with those with whom he must work. There's no doubt from the outset that Special Agent Dale Cooper's the man to solve this heinous crime.
And so, to the victim: a pillar of the community, beloved by all, a paragon of virtue whose person would be held inviolate by even the most hard-hearted citizen of Twin Peaks. David Lynch and Mark Frost waste little time in dashing this romantic vision of the victim. Laura had not one, but two boyfriends, and both are the overtly troublesome type that Aunt Agatha would certainly deem Most Unsuitable(tm), motive enough for a murder in any cosy English or New English village you'd care to name. Just as you are relishing, positively salivating at, the idea of piecing together the tragic real story of our victim, learning the details of the $10,000 in a safety deposit box, the connection with the unsavoury Leo Johnson, your expectations of a methodical assemblage of facts are smashed like a rock through a milk bottle, as Special Agent Cooper goes off a century's worth of beaten track. Phoning Sheriff Harry S Truman in the middle of the night claiming to have solved the murder, only to reveal that the answer was told to him by Laura herself in a dream, is not in the approved methods of crime solving laid out by anyone in Murder for Pleasure: The Life and Times of the Detective Story, or indeed, anywhere else. Even James Ellroy's twisted imagination doesn't include dancing dwarves in his denouements.
What we have is something else wearing the clothing of a police procedural, stealing its skin to trick us into playing along. In the words of Weird Al, everything you know is wrong. Lynch and Frost aren't going to give us an explanation that accords with our scientific obsession, our mechanical minds – they're going to do what Conan Doyle never would, and let the world of spirits and spiritualism infect the very fabric of their creative world. Holmes' most famous maxim is that once the impossible has been eliminated, whatever remains, however improbable, must be the truth, but Lynch and Frost have just shown us in Episodes 3 and 4 that the impossible is not, in fact, off the table either.
Cause and effect, which we have been trained by a century of literature to honour, can now be turned on its head. Detective stories have always been regarded as fundamentally conservative and supportive of the established order of 'civilisation'. Both the murderer and the murdered are obstacles in each author's conception of proper society, and hence the platonic form of the detective story ends with a renewal of that fundamental rite of marriage. Lynch and Frost invite us to challenge that basic ordering of things – perhaps Laura isn't the victim because of her metaphysical impurities, because of her dubious love life, questionable business decisions and so on. Perhaps those are things she does and experiences because she is marked as the victim. Her innocence is unquestionable – Cooper's investigations are going instead to find society imbued with guilt. Rather than being the obstacle necessarily removed for the proper functioning of society, Laura is the repository of the guilt shared by all.
"You make me sick. You damn hypocrites make me sick! Everybody knew she was in trouble, but we didn't do anything. All you good people. You want to know who killed Laura? You did! We all did. And pretty words aren't gonna bring her back, so save your prayers. She would have laughed at them, anyway." – Bobby Briggs, nailing it.
The mystery is solved, but it's going to take another 26 episodes to understand what exactly that means.
Alasdair Sinclair is a crime fiction enthusiast, but has yet to solve a single murder… or commit one. His Masters thesis, Five Murders in a Fictional City is available on request and is about Dashiell Hammett, without a doubt the greatest drunk ever to write a detective story. He (Alasdair now, not Dash) lives in Wellington where he enjoys two out of three of the following things: cinemas, pina coladas, and being caught in umbrella-murdering southerlies.
—-
Enjoy Grant Buist's livetweet of the episodes: (click on a tweet and scroll down to read the whole sequence):
Episode Three, aka Episode 1.04, aka 'Rest in Pain'. Those wacky Germans. #TwinPeaksRewatch

— Fitz Bunny ⭐️ (@Fitz_Bunny) January 29, 2017
Episode Four, aka Episode 1.05, aka 'The One-Armed Man'. #TwinPeaksRewatch

— Fitz Bunny ⭐️ (@Fitz_Bunny) January 29, 2017
—-
Listings for the original NZ screenings, courtesy of ace TV researcher Paul Scoones:
(See Paul's full post for more information on Twin Peaks in New Zealand.)
Episode 3: 'Rest in Pain'
NZ: 15 April 1991; Tuesday 8:30-9:30 (US: 26 April 1990)
Cooper uses the deductive powers of his unconscious mind to break open the case, the townsfolk gather for the funeral and Truman reveals the secret of the Bookhouse Boys.
Episode 4: 'The One-Armed Man'
NZ: 23 April 1991; Tuesday 8:30-9:30 (US: 3 May 1990)
Cooper tries to match his dream with Sarah's vision; Hawk stalks the one-armed man; Hank goes before the parole board and Audrey decides to conduct her own investigation of Laura's murder with help from Donna.
—-
Rewatch Schedule:
Join the hashtag #TwinPeaksRewatch
15 Jan: Pilot: Starting at the start
22 Jan: Eps 1 and 2: Damn fine cup of coffee
27 Jan: Eps 3 and 4: Laughing at prayers
5 Feb: Eps 5 and 6: Invitation to Love
12 Feb: Ep 7*: Biting the bullet
19 Feb: Ep 8: We want to help you
26 Feb: Eps 9 and 10: Bury her deep enough
5 Mar: Eps 11 and 12: Sometimes the Can-Do Girls Can't
12 Mar: Eps 13 and 14
19 Mar: Eps 15 and 16
26 Mar: Eps 17 and 18
2 Apr: Eps 19 and 20
9 Apr: Eps 21 and 22
16 Apr: Eps 23 and 24
23 Apr: Eps 25 and 26
30 Apr: Eps 27 and 28
7 May: Ep 29**
14 May: Fire Walk With Me***
21 May: NEW TWIN PEAKS!
* optional: The Secret Diary of Laura Palmer and The Autobiography of Dale Cooper books
** optional: The Secret History of Twin Peaks book
*** optional: The Missing Pieces