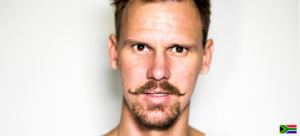 I had a wee bit of trepidation about seeing Dusty Rich. A friend of mine had seen him in First Laughs and thought that he hadn't been great, and there'd been an undercurrent of homophobia which is not something I'm that keen on seeing in a show. Unless the punchline is the homophobic. However everything turned out great in the end.
Dusty isn't a comedian in any real conventional sense. I mean he's funny, which conventionally comedians are, but his shtick is to just rattle off a stream of consciousness at breakneck pace, sometimes finishing thoughts, sometimes not at all. He also gets both his energy and a lot of material from the crowd. Fortunately when I saw him he had a crowd willing to engage and so a lot of quality material was able to be served up.
He's confrontational, for sure. He isn't afraid to take the crowd on, but just when you think he might be getting to that point where you feel uncomfortable and it descends into hectoring and bullying he backs away, which is a sign of a comic who can really read the room they're working.
He paces around the stage like an aggressive house cat, and then sometimes gets right into the crowd to talk to someone or about something that's taken his fancy. He'll take the piss out of you if it goes that way, or he might be kind. It's erratic and nerve-wracking to watch, but it's also funny.
A lot of the funny comes from places that you don't usually find funny. From well timed blinks, to just physical tics, Dusty mines a whole range of channels through which he makes the audience laugh; and laugh they did. He's what you might call an edgy comic, not "offensive" per se, but there's definitely subject matter that wouldn't be safe for children. Unfortunately someone brought a child. That child a learned a lot.
He lulled a wee bit in in the second third of his show, but he seemed to pick that up and so escalated his own energy levels to boost the crowd back up, which worked a treat.
It's hard to know exactly where he gets his ideas from. A lot of it is his South Africa background, and now his current living arrangement in Australia, but a lot of it seems to come from a dark place within where he may have battled some demons and now he's at least partially come out the other side. The joke crafting isn't traditional set-up to punch, it's just …. here's some shit I think that may or may not be funny.
He is a very very good performer. It's all completely pointless and a bit nihilistic but it's been one of the highlights of the festival for me.
Auckland, May 10-13, 10pm, Vault at Q Theatre
Wednesday & Thursday $20
Friday & Saturday $25
Concession $20
Group 5+ $20
*service fee may apply