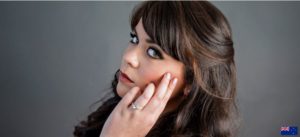 Laura Daniel is probably the most likable comic I've seen on stage in some time. It's a personality characteristic that is often neglected by comics, but for Laura I'm pretty sure it's natural and just down to a charismatic, charming and funny persona.
She's a hurricane too. Her show, Pressure makes diamonds is a wonderful mash-up of jokes, musings, sketches, audience participation, dance and video. It has a big variety and most things land well – those that miss are usually forgiven because we all think Laura is awesome, while some may verge on the creepy.
She uses an opening act, sort of, to start the show and Flo has one of the best sight-gags you could hope to see. There's audience participation right from the get-go and unfortunately I was the chump hauled on stage for this bit, but she never made me feel like a tool on stage which is always the risk with getting punters up – sometimes it can be a form of bullying if not handled well.
After that incredible opening she has a few weaker bits and I was concerned that she had peaked with her opening bit but she brought it back hard. Her self-awareness allows her to vacillate between the self-confident and the vulnerable in equal parts which creates an inspiring vibe to her gags.
As has been the trend with other comics, there are bits that sort of jokes about jokes, all very meta and trendy. There's also some marvelous material where she throws stereotypes right in our collective faces to demonstrate how silly they are. There's also an incredible video which was years in the making.
She ties everything together magnificently with a big closing bit, which she did promise us and then delivered.
Once again, Laura continues the trend of stand-up comedy that's so much more than just standing behind a microphone doing set-up: punch gags and we are the better for it. She's a Billy T nominee and I wouldn't be surprised if she won it, it's the sort fresh, funny and lovable show that deserves to.
Laura Daniel in Pressure Makes Diamonds
May 3-7, 9pm at BATS Dome
TICKET PRICES
Full Price $18.00
Concession $14.00
Group 10+ $13.00
Cheap Wednesday $13.00
*service fee may apply