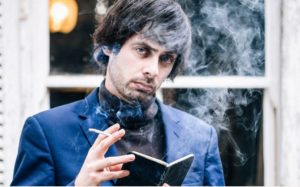 Marcel Lucont's was one of the shows I was most looking forward to this festival. He's won a tonne of awards recently and everyone raved about him at his most recent trip here a couple of years ago.
I may have set my expectations too high, because, despite some moments of utter genius the show was a bit patchy with lulls and self-indulgences that, while suited to the character, didn't generate much mirth among the audience.
The audience is asked to fill out a form prior to the show which included our name, nationality, our worst day at work, our worst amorous experience and our worst overseas experience. These were then collected just before Marcel came on stage and used as the spine of the show.
Marcel is the quintessential French stereotype; snooty, self-absorbed, smug and dripping in cultural over-dose. He is also just about the driest comic I've seen in a New Zealand Comedy Fest show, and I think this dryness may have worked against him. New Zealand audiences are used to having their comedy made explicit where we're supposed to laugh. Set-up: punch. Set-up: punch. Or pregnant pause to indicate 'laugh here'. Marcel makes you work a bit for the humour and whether it was laziness on the part of the audience or an unsuccessful sales job by the comic, it seemed that much of the audience wasn't prepared to do a bit of mental work to get to the funny. Which was a shame as some of the audience missed out on some brilliant jokes.
The audience interaction component – where he used our contributions from earlier – showed some pretty good improvisation chops, though some exchanges with the audience went on too long. We were there to see Marcel be funny, not hear people from the audience's own perspectives on what they thought was funny. Marcel could work on his crowd control a bit to tighten these components up.
There was also some poetry, song and a couple of video clips. The video clips were probably the weakest component of the show as they riffed on how awful Britain is – which would probably go over a treat in Britain, but as we're one step removed, some of the humour was misdirected. Also using video clips of people who look …unfortunate…and relying on that sole fact for laughs is cheap and nasty and Marcel is better than that.
Overall it was a pretty good show, but could have been tightened up. That said, it's a brave concept and risks should be rewarded otherwise we'd be cursed to seeing nothing but Michael McIntyre.