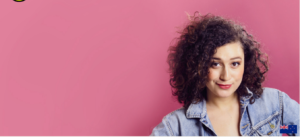 I said it in the tweet immediately following the show, and I'll say it again, Rose Matafeo is a national treasure. Her show, Sassy Best Friend, is just a delightful, insightful, clever, funny, and confrontational show. But not confrontational in the way some "edgy" comics are confrontational, confrontational in the sense that she just walks into some topics that some people don't quite have the chops to handle and then … handles them. Hysterically show.
The show takes a wee while to warm up. Rose's opening monologue is rapid-fire. So quick. Boom boom boom. Words. Fast. Not everything lands. It makes you breathless trying to keep up, but as the show goes on she settles into a rhythm and cadence that seems more natural. And the second half in particular is a masterpiece.
Some of the jokes weren't quite for me, but I seemed to be the only one. She had a packed Rower's Club in hysterics throughout nearly the whole show. I found most of it funny, but I think I'm getting old now and the mostly younger audience lapped it up.
There were some audio difficulties but that was a feature of the venue more than Rose (in fact note to Comedy Fest, Rower's club is a bit of a shit venue). Rose's audio features are fantastic. She has an iPad on stage that she works a number of sound cues and they are nearly all gold.
She's super smart, obviously, and increasingly self-aware. And it's the parts where I think we see real Rose that are the highlights of the show. I said to my friend after the show that the best parts of the festival that I've seen so far this year have been where comics take a deep-dive into themselves and really reveal something. It's probably a cliche, but it's true. And it's particularly true of Rose. When she starts opening up to us we feel like we're friends and we're witnessing this amazingly witty and funny mate having a deep and meaningful with us that, as a by-product, is comedy gold.
Between Rose and Guy Montgomery, the new generation of New Zealand comics have two incredibly good performers. I think the best encapsulation of it came from a very good friend of mine immediately after the show. She said "I want to befriend her, adopt her and emulate her."
It's a 
from me.