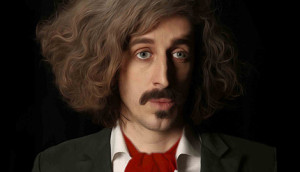 So Tom Wrigglesworth was here a few years ago (2010 in fact, damn time marches on) and he constructed an entire one hour show based on a short story of a thing that happened to him on a train. I went and saw it and was struck by how good a storyteller he was and how he was able to weave 'gags' into his stories so effortlessly that the hour flew by. He's gotten better.
Last night, in his show Utterly at Odds with the Universe, Tom presents us with a history of his relationship with his grandfather. He used to tape-record interviews with his grandfather where he'd ask him what it was like to be old and so forth. This was done in the 80s when Tom was just a wee fella. The show flashes between Tom's youth and more recent adventures as Tom blunders his way through life.
The man is a genius. His storytelling is second-to-none. He largely does away with the setup-punchline style joke and just weaves beautiful narratives, using language just a half-step removed from normal everyday speech. This keeps the audience onboard but makes hilarity out of mundanity.
By having flashbacks in his show, Tom is able to utilise a well-worn trope of comedy: nostalgia. The audience loves nostalgia. We love hearing about things we recognise from the past. Tom doesn't over-exploit this device, but rather uses it to within an inch of perfection. He also stretches his elastic body to twist and contort and wring laughter out of the crowd through physical comedy as well.
His device of having a small nugget of each anecdote in the following one is very clever, though it can become predictable once it becomes clear he does it every time. But this does not in any way detract from the show. Tom Wrigglesworth is a modern-day bard. A spoken-word minstrel who weaves us through his life, always making us laugh, keeping us entertained then hitting us with a massive emotional wallop.
It's hard to write this review because it was just that good. So here are some of the notes I took:
Such a warm story  teller
Cleverly runs this, that and the other parts together and around
He varies tone, pitch and timing perfectly
Mixes  emotional warmth and humour
It's just lovely
Just fucking brilliant
Honestly, this is one of the great all time festival shows I've seen. People literally laughed and cried. We all walked out satisfied and delighted. He truly is a comic gem.
Show details:
Tom Wrigglesworth in Utterly at Odds with the Universe
San Fran, Wellington 12-17 May, 7:00pm
Adults $26.00
Concession $20.00
Groups (6+) $22.00