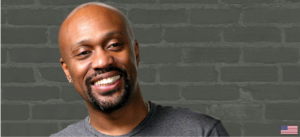 I was nervous about this show. I'd heard that Tony's performance in the gala had gone to places that I'd probably not be a fan of and so I approached it with some trepidation. I left with a feeling of delight and joy. None of the horrible bits he'd done in the gala surfaced in this joyfully amusing and whimsical trip around the world and through Tony's mind.
He's super laidback with a sort of stoner drawl that takes a second for the ear to get used to, this unfortunately meant I missed a few bits right at the top of his set but you soon warm into it and what we were treated to was a comedy masterclass.
Tony brings decades of experience to the stage, and also a world perspective that we don't get to see in New Zealand a lot – the black American. His is a fascinating world view as we hear his tales of trips around the world, from Canada to Australia, to New Zealand and back in the States.
Each portion of our world journey comes replete with some incredible impressions of people from that area. His powers of accent mimicry are outstanding and didn't once feel racist or derogatory. He is also phenomenal at doing impressions of inanimate objects. Except didgeridoos. His didgeridoo impression was fucking terrible.
The show comes across as a bit of a rambling shambles but it is clearly a well planed, well honed show – and to make a professional show look a bit shambolic shows a comic with a real gift of control.
Sometimes Tony doesn't get the reticence of New Zealand crowds and so when we don't greet every gag with uproarious deafening laughter he seems to take it as a slight that the gag didn't fly – which isn't the case; I think there may have been one bit that didn't quite work out that well for him, and it was when he started veering towards the edgier stuff; but sensing our reaction he backed away and things got right back on track.
I really couldn't suggest any improvements for this show. It was not the offensive, edgy potentially-racist-and-sexist show I had feared, it was a delightfully whimsical trip around the world with wonderful impressions, observations and some brilliant insight.
Tony Woods
Wellington Rower's Club, May 9-13, 7pm,
ICKET PRICES
Tuesday & Wednesday $15
Thursday $20
Friday $25
Saturday $30
*service fee may apply