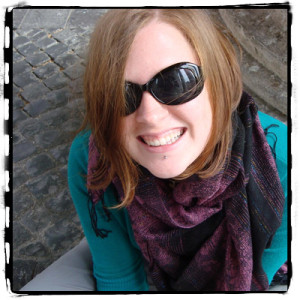 By Jennifer O'Sullivan
As a woman who works in comedy, I am sad that there are not more of us. In fact, I'm sad that 90% of comedy performed this festival comes from one perspective (SWM), because it means there are heaps of jokes and stories that we are missing out on. As well as working behind the scenes to try and increase/retain the participation of women in the comedic arts, I am keen to get out and support the women featured in the festival this year. In case you also want to do this I have prepared a handy guide to funny women and where to find them. Whether they'll be to your taste is entirely up to you – surprisingly enough, funny women don't all make the same jokes.
Solo Performers
There's a few big names that I'm pretty excited about. The main (only?) international woman visiting both Auckland and Wellington is Sara Pascoe, with her show Sara Pascoe vs The Truth. You can check her out on the youtubes to catch her vibe, and she'll also be featured in a number of line-up shows, including 5 Star Comedy Preview, Comedy Allstars at the BMC, The Big Show 2014, and probably either First Laughs or Last Laughs depending on when she arrives in the country. Local hero Urzila Carlson is also hitting both cities, and as the winner of last year's People's Choice award, she's a good bet for a great time. Check her out in Poise Control, or catch her in the Creeping Charlie Showcase and most likely a few late night shows.
2013 Billy T Winner Rose Matafeo is back with her new show Pizza Party, though she's only performing it in Auckland (boo). She's also co-starring in Kiwi Heroes Live (Auckland), and doing a one-off performance of The 5pm Project (Auckland). I saw her set at Last Laughs before she won the award, and boy-howdy did she deserve it. Hi-larious.
One of my personal favourites is Penny Ashton, who brings her award winning show Promise and Promiscuity to Auckland (and she better bring it to Wellington or I'm gonna be furious) – it's a musical co-written by herself and Jane Austen and toured across North America to great acclaim in 2013. Definitely one to catch.
Other local ladies bringing it to the festival are TM Bishop with Big City Hillbilly (Auckland), Jayran Mansouri with Kitchen of Curiosities (Auckland) and Hilaire Carmody performing one of the slots in One Night Stand (Wellington). And while she doesn't seem to be featuring in her own show this year, you can catch Justine Smith in the Comedy Convoy (national tour) and the Comedy Festival Podcast Series.
Co-Stars…
The darling of the musical comedy scene, Hayley Sproull is back and reuniting with Chris Parker in Tighty Whiteys (Auckland/Wellington). Most recently seen winning the Fringe Fave award for Miss Fletcher Sings The Blues, she's pretty damn delightful and her show last year with Chris was wacky as shit. Another Wellington darling, the charming Hannah Banks features in My Accomplice's new work A Show About Superheroes (Wellington) which to be honest is very likely to be very awesome.
There's a few Auckland shows that I know less about, but am no less enthused by. Julia Holden is one third of Two and a Half Asian Men. Becky Crouch is one third of Rule of Three. Jackie van Beek is half of Flashdunce. If only the rest of the festival's gender balance were even close to these…
Ensembles and line ups
Improv tends to have better gender ratios than your standard comedy shows, and this year appears no different. The two offerings from Wellington Improv Troupe feature a pretty even mix of performers (I know because I'm in one and directing the other). Check out Return to the Planet of Forbidden Improv (Wellington) or All Star Micetro (Wellington). Auckland improvisation to check out includes Snort with Friends, the Con Artists' Olliver Twisted, and Covert Theatre's Covert Improv Night and Ferris Wheel. The improv/limited prep stand up pun battle Pundemonium (Wellington) is hosted by two women (yours truly and Hilaire Carmody) and usually features a few women too, so check that out if you feel like observing a 'well organised drinking game'.
There's a few line up shows that include women on their bills – Generation Why (Wellington) features the comedic talents of newcomers Alice Brine and Savanna Calton, and there may be more that just haven't released their line ups yet. Some non-traditional shows featuring the women-folk include Fanfiction Comedy (Auckland/Wellington) created by and featuring Heidi O'Loughlin, Le Comique (Auckland), and Birds of Paradise (Auckland). While I know from experience that Fanfiction Comedy is glorious, I don't know much about the other two but encourage you to check them out nonetheless.
Well! That concludes my highlighting of festival shows that supporters of women in comedy should check out. It is a tremendously short list (as I lamented in a series of tweets recently) and I think it's a crying shame. There are more women that work in NZ comedy at the moment than are represented in the festival line up, and the reasons for their non-participation this year are many and varied, and a discussion for another day. Until then, if any of these shows and performers tickle your fancy, support them with your patronage and we'll all have a marvellous time.
If I've missed something? Please add it in the comments!