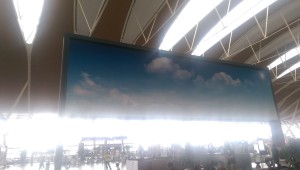 1020 – Descent (ascent) into Hades. The terminal boasts a giant billboard picturing blue sky.We wander around like shades, waiting to cross the Styx. In my case, Charon will be delayed. All coined up with nowhere to go. There's a woman next to me yelling into her phone. I wonder how long she's been here…?
1041 – French hipster turns to me in the immigration line. "Do you speak French?" "Badly", I reply. "My English is bad too" he admits, but continues: "Do you like strong guys?" Suddenly we're having a very different conversation. I try to manage my discomfort as best I can. "No." I respond, in what I think is a sympathetic, knowing tone. "Why not? It's a very multicultural city, very vibrant." Oh… Shanghai… "Look – the border guard is waiting for you."
1130 – It's warm. I've already marinated in my clothes for one 12 hour flight. The terminal is enormous, but the air is stagnant. Still, at least I'm not outside – smog is the primary feature on this landscape.
1204 –There's no one at the Air NZ desk. There's no Air NZ desk. Information tells me that it will be open within three hours. Or was that within three hours of boarding? It's the latter – that'll make it 7:00pm then.
1337 – Someone's very cross, barking in Mandarin (Cantonese?) at the attendant – this conjures memories of reality TV's 'Airport'. Except Jeremy wouldn't have allowed the complainant behind the counter to continue his remonstrations. It's unclear whether the elderly security guard will suffice if things turn physical.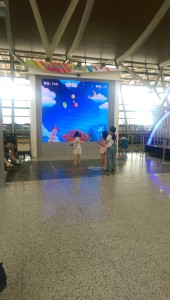 1429 I think? – Do you think they'll let me play on the giant motion capture game for kids? Fruit Ninja may help pass the five hours I have to wait. Though I fear that by hanging around, I may draw attention to myself. Must not get mistaken for a creeper – walk away.
1251? – In hunt of fast food –something that I recognise. Now is not the time to be adventurous. KFC works, though I feel like ordering by pointing at photos demeans both of us. Why has the gentleman across the way lifted his shirt to expose his belly? A cautionary tale – eat less KFC.
… – Why is this guy talking to me – I don't understand what he's trying to say. "Can I get my phone out?" "No. Sorry." Walk away. This is a scam right? I haven't missed the opportunity for adventure have I? Here comes another one. Stop trying to sell me phones!
1600 – The stereotypes are everywhere: selfies on sticks; clichés printed in English on t-shirts ("Keen for anything" – this is the Chinese version of character tattoos isn't it?); peace signs…
1602 – A security officer Segways past (horrific things Segways). He's followed by more security driving a golf cart. Their cargo: two teenagers in full military camouflage carrying assault rifles. I stumble across the troop ten minutes later. I think they're writing a ticket. Is that the guys with the phones? Everyone has an opinion, but (inconveniently) they're not expressing them in English. I should have taken up the offer for Chinese lessons from the woman in the bookstore. "Good for business" she said.
1810 Definitely – I stand at the front of the check-in line. It doesn't open for twenty minutes, but what's twenty minutes when you've been pacing for eight hours? The echo of the rattling carts on the timber roof evokes rain. Or maybe it's raining outside – I can't tell anymore.