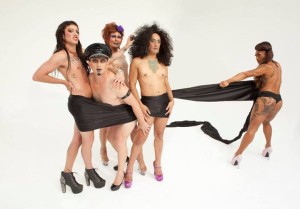 K'Rd Strip: A Place to Stand
Downstage Theatre
Written by and starring Taane Mete, Taiaroa Royal, Simon Coleman, Jason Te Mete, Jamie Burgess, Adam Burrell, and Will Cooper-Barling
Directed by Simon Coleman
Choreographed by Taane Mete
I'll open with an honest statement: despite being a fellow homosexual, the world of drag is one that I have never really associated with. The seemingly over-sexualised and brash culture of these "fabulous divas" is intimidating, especially to those of us on the outside.
Tonight, I was converted.
Okareka Dance Company offers an insightful and truly inspiring spotlight on Auckland's Karangahape Road with their latest work, K'Rd Strip: A Place To Stand. Presenting the spirit of K'Rd from the perspective of six gay men, director Simon Coleman has beautifully stripped away the mysterious veil that surrounds this complex culture, dealing with the colourful realities of prostitution, dating, gay bars, sex, rape, homophobic abuse, and, most importantly, community.
The show could easily have been preachy. It never was. Instead, it is a celebration of the beautiful boisterous boys and the passionately proud people that work along and frequent New Zealand's most iconic road.
The six performers, who also helped devise the work, are an eclectic bunch; the perfect mix of people to represent the diversity of the K'Rd community. There is a great sense of connection with the show subject as well as one another. All of them bring their own individuality, with each having a chance to shine and tell their own stories. The stand out performer is Will Cooper-Barling who brings such confidence and vitality to the stage. I would also make a special mention of Jason Te Mete whose beautifully delicate voice is totally unexpected, his solo being one of the highlights of the show.
The work is scored with a diverse mix of New Zealand music, ranging from traditional karanga to Dave Dobbyn, from Savage to OMC. A majority of the songs are sung over backing tracks, and while this could end up sounding like a bad night of Karaoke, the tracks are good quality, the singing is adequate, and (disregarding a few minor microphone issues) the balance is spot-on.
I hesitate to go into detail about the acts themselves; this show is one you just need to go and witness for yourself. What I will say is that it is the perfect balance of singing, dancing, stripping, poetry, and anecdotes; the perfect balance of the stunningly sexualized and the beautifully innocent; the perfect balance of confidence and insecurity.
But the show is most beautiful in its rawness and honesty. It shamelessly and, in explicit detail, tells us how it is, no holds barred. It is refreshing and wins respect from the audience.
Although K'Rd Strip: A Place To Stand is a story of the LGBT culture, it is a story for everyone. It is touching, revealing, hilarious, and all together stunning, and absolutely deserved the standing ovation it received. I came away from the theatre with a newfound pride in my LGBT brethren, and, as if I'm not already feeling good enough, my boyfriend and I are accosted by a drag queen on the walk home who is so ecstatic to see two gentlemen walking down the street together, arm in arm.
K'Rd Strip: A Place To Stand only runs until the 13th of July. Make sure you do not miss this sensational show.
You can book your tickets here.