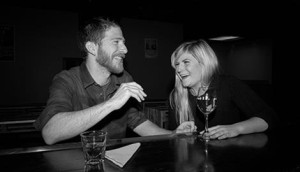 This show boasts two of the best up and comers on the Wellington comedy circuit. Alice Brine has generated a lot of buzz and earned plum supporting spots for our NZ's TV comedians as well as Hollywood funny man David Koechner. Daniel John Smith took out the Wellington Raw Comedy Quest in 2014 and has been a regular performer at Wellington's premier weekly line-up show "The Medicine". Together they join forces to test themselves, graduating from shorter support and line-up spots to a full 30 minutes each.
They initially take the stage together, with the titular 'Fitted Sheet'. A small routine follows which completely fails to hit the mark. This quick skit serves no purpose other than to crowbar in a physical manifestation of the show title and is mercifully over in a few minutes. Brine leaves the stage briefly, leaving Smith on stage… but only to reintroduce Brine. The opening feels clumsy and I think there must be a quicker way to get into the show proper.
Alice Brine sets out to own the room from the get go. It's less than a minute before Tinder gets a mention, but she makes her point and swiftly moves on, not dwelling on the well-worn topic. She succeeds instantly, with her material derived primarily from three sources –her disdain for a former work colleague,  a Facebook exchange with her once-flatmates and her diary from when she was a 14 year old, unmedicated for her undiagnosed ADHD. Her stage presence is super strong, and carries her through the material with steady laughs. The material isn't that inventive, almost all of her set falls into the category of 'a comic telling us how stupid other people are', fortunately she saves her most eviscerating spiel for her 14 year old self, laughing with us at her teenage persona. She perhaps sits too long on some of the 'stupidity of others' stuff, but her execution is that good that nobody cares too much. It's a polished performance from an emerging professional. Brine is good, really good, but should be wary of relying too heavily on reading off printed material. She closes her set on a strong note and brings Smith onto the stage.
Daniel John Smith won the Wellington leg of the Raw Comedy Quest a year ago, and it is immediately obvious why. Smith represents a real change of pace from Brine, in both style and substance. He is slower in his delivery, deliberate, he pauses for thought and moves around the stage in the manner of a comedian far more experienced that his rookie status should allow.
He begins his set by gently riffing on some very clever wordplay. He allows us to get the joke, before revealing it for anyone who didn't, but adding an extra twist. He talks about his childhood at first, children being a theme he sticks to throughout his set. It is apparent that his material has been finely crafted over many test runs, he strikes me as the type of comic that labours over a pause or a choice of a single word in pursuit of perfection. His longest anecdote about poor parenting spans most of the set, but he shoots off in different directions brilliantly. At one point Smith gives us a tantalising glimpse into his own future as a father, with an hilarious family ceremony played out for our enjoyment. He gets the best reactions of the night here, and celebrates with a wry smile.
Smith changes gears slightly near the end of the set, taking a risk by introducing some very dark humour. He loses some people there and for the briefest of moments there is an uncomfortable silence over the room, but it is quickly replaced by howls of laughter and applause as he pulls back at just the right moment, giving us both relief and a guilty enjoyment. I wonder if he lost a handful of the crowd permanently here, but he is still refining his audience and the few gaps left by those who didn't enjoy it will be swiftly filled up by fans in the coming years.
To watch Daniel John Smith now, feels a bit like watching the Beatles in 1961 at the Cavern Club.. which I realise is a huge call, but make no mistake, he has the goods. It's exciting to think where he may be if he keeps working at his material in 5, 10 even 20 years. While some of his darker humour won't appeal to everyone, his craftsmanship and thought provoking style are a treat to watch, and he skirts the edges of being offensive like a master. It is so disappointing when Smith wraps up his set, as his half hour flew by in a blur of hilarity. He thanks the crowd and gives a last nod to his co-performer Brine (who gets a loud cheer from a crowd who hasn't forgotten her great set).
This show is well worth the bargain price tag and whether you are going along predominantly to watch Alice, or there solely to see Daniel, I am sure you will leave feeling lucky to have seen them both.
Show details:
29 April – 2 May, Kitty O'Shea's
Adults: $15
Concession: $12