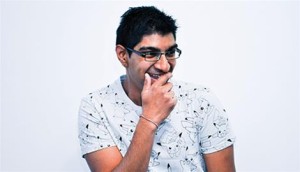 Sanjay Parbhu has been performing as a comedian for around 7 years, since graduating from the NZ comedy fest initiative "Class Comedians" while still in high school. This is his debut solo show.
Parbhu's blurb in the festival booklet claims that he has "been in a lot of interesting situations", before listing a few examples, such as "Building his own computer" and "attending a young adults Christian gathering".  Quite why these things are chosen as interesting situations is beyond me, so it is with a degree of skeptisism I approach the show.
Parbhu elects to use an opening act; rookie comedian Julia Burgisser sets off on a roughly 5 minute set where she tells us about herself. Given her short time to impress, she does well. It is however disappointing to see her constantly referring to scribbled notes on her hand, this is a professional show in an international comedy festival, and even as an openeing act there is a duty to put together a polished, rehearsed performance to your paying audience. Before long it is time for the man of the (now slightly less than an) hour. Burgisser introduces Parbhu to raucous applause and he bursts onto the stage as a bundle of energy, wearing an outfit that is supposed to provide the first gag of his set. It feels a little weak to me, a joke that lacks any real impact, has no pay off and fails to grab us. His second joke about his comedy festival ID card isn't much better and I'm starting to worry that we are in for a rough ride.
Despite the shaky start, he plows ahead and it isn't long before his naturally likeable character begins to shine through, the crowd warms to him quickly and he grows in confidence as the laughs begin to come. His set establishes him as a bit of a geek, a badge that he owns and milks for great laughs. He talks about growing up in Newtown and some observations around the local shops provides him a platform to then lovingly savage his home suburb more and more, keeping us laughing and building to a final dig at nearby Vogeltown that earns an applause break. It's humour for locals, which the majority of the audience are, so it works. Parbhu sets a quick pace throughout his set and we hear about his tough year, his friendships and relationships and the aforementioned computer building project.
Parbhu is a sincere performer; He is honest and presents himself in an incredibly genuine manner. This makes it so easy to connect with him. He shows us his vulnerabilitie, not to get pity, but so we empathise with him. There are moments where I feel he laughs a little too much at his own jokes, but it's genuine enjoyment and not smugness. He verbally reassures himself over stories he particualrly enjoys, saying "this is great!" on a number of occassions. There are definitely jokes in here that don't work, that have no punchlines, or that fall flat, but they are in the minority and the audience is kept warmly laughing for most of his show. There isn't a strong theme here and Parbhu's story telling only ever scratches the surface of his fodder, but his show is a success because of who he is.
His weakest moments are provided by way of some audience interaction. There are cards printed and placed on the tables for us to write down something we did "because we said we would". These are then gathered up for Sanjay to 'do something with' during the show. The first such time comes fairly early in the show and after weeding through a few cards, he settles on one to interrogate an audience member about. There are no improv skills on show here; it is simply a few questions to the author of the card and moving on. Later in the show he revisitis the cards, but again it is a disappointment and only breaks the flow of his autobiographical storytelling.
His biggest successes of the night come when he throws himself into impressions and with his closing riff on being approached by a major Hollywood studio, which garners huge laughs and more applause. He even negotiates a potentially very risky topic with the skill of a comic that knows he doesn't need to delve into the offensive to get the desired result.
If you are browsing through the festival booklet and want to take a punt on a local, Sanjay provides a good, fun time and does himself proud in his debut solo show.
Show details
29 April – 2 May, Kitty O'Shea's
Adults: $15
Concession: $12