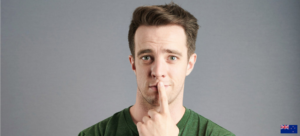 Hell of a show title. In the annals of comedy fest titles that are memorable this is right up there. And while the show content doesn't quite reach the lofty heights of its title it's still a great way to spend an hour, and Eli is a wonderful person to spend it with.
Eli bounds on stage like a puppy. As it turns out a smutty puppy. But still an adorable wee comedic puppy. The audience love him from the get-go. I was underwhelmed by some early material that focused on old pop culture references (and by old I mean from the first decade of the 2000s). Some of this material paid off by the end of the show but I feel like Eli is too good a comedian to fall back on this stuff.
It's when Eli gets into the stories that deviate from the norm that he really comes into his own. He is a wonderful story teller, each gag and long-form bit told with great gusto and fanfare so that even if it doesn't quite reach the hilarity that you might be hoping for or expecting, you're not disappointed by the bit because, damn it, he's just so much fun.
He's so polished now. When I saw him a few years ago he was good, but now he's slick too. There's a real feeling of professionalism that comes from him. Bits that don't land are forgotten and we're onto the next bit. He doesn't fuck around forgetting his material. There's a logical flow and cohesion to the show. It's all the hallmarks of a comic coming into their own.
As mentioned above, some of the material just doesn't quite hit it for me. But the audience I was with were by and large lapping it up, so this could just be a personal preference thing. The job of the comic is to make the room laugh, not the critic, and to this end Eli was hugely successful. That's not to say I didn't find anything funny, I did, I just wasn't as into it as the audience was.
Any time Eli is doing a show I'll definitely be keen to see it, he's one of those comics who is so entertaining, and so interesting that you just want to see what's planning next.
Eli Matthewson in the Year of Magical Fucking
Wellington, May 9-13, Fringe Bar, 8:30pm
TICKET PRICES
Full Price $22
Concession $18
Group 5+ $18
Cheap Wednesday $18
*service fee may apply
Auckland, May 16-20, Basement Theatre, 10pm
TICKET PRICES
Full Price $25
Concession $20
Group 5+ $18
Cheap Wednesday $18
*service fee may apply