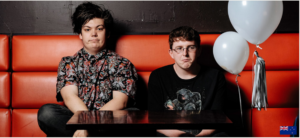 There's awkward comedy where we cringe because of the awfulness. Think Larry David in Curb Your Enthusiasm or Ricky Gervais in his entire life; both examples where the individual has no self awareness. And then there's awkward comedy where we are laughing slightly more with the comedian because they possess that self awareness that allows them to poke fun at themselves, deliberately.
Joel and Josh, two up and coming Wellington comics definitely fall into the latter category. Both of them well aware of their social flaws and both very bravely game enough to put them on full display for us to witness and … enjoy?
As befitting two comics just getting started, they both take 30 minute slots each and Josh opens up the show. He gets straight into his own shortcomings and has some great material around some grim subject matter – his own sight problems.
He also has some wonderfully wry meta-observations about comedy that get a well deserved laugh from the crowd that's packed into the wee Ivy Club.
Sometimes he rushes bits, where he could take longer constructing a premise because the pay-off is often very good, but would work even better if the audience was given more time to anticipate. And then one other piece of material suffers from the reverse problem, in that it's a very long bit with a pay-off that wasn't worth the time it took to get there.
Overall though Josh is clearly a super smart comic with a tonne of potential. When he gets that premise buildup going the gags are top notch, and as he gets more experience and becomes more comfortable onstage, building his presence, he'll be an excellent comic.
Joel Hansby takes the second half and he's clearly more comfortable in his uncomfortableness. He opened with a wonderfully surreal piece that managed to get a big laugh from the crowd despite weaving a story that I'm sure very few people could actually relate to – class act. His comedy is quirky, I'm not sure it would be for everyone, but for those who do enjoy the odd off-kilter stuff he's a treat. He shuffles around the stage awkwardly, whether a feature of who he is, or a feature of his performance it meshed really well with his material.
He got a wee bit flustered when he lost his place and struggled a bit to recover, but given his relative newness to the craft it was nothing to be upset about. The crowd never stopped enjoying themselves. One area he could work on is not acknowledging so much if a gag doesn't land, we know, we were there. And it can really halt momentum.
It's great seeing new comics getting up and doing shows in the fest, and these two show some wonderful potential in a style of comedy we don't get to see a whole heap in New Zealand.
Joel Hansby And Josh Davies in Dorkward
Wellington, Ivy Bar, May 10-13, 7pm
TICKET PRICES
Full Price $18
Concession $15
Cheap Wednesday $15
*service fee may apply
Auckland, Cellar at Q Theatre, May 17-20, 10pm
TICKET PRICES
Full Price $18
Concession $15
Cheap Wednesday $15
*service fee may apply