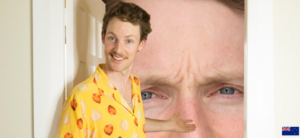 Guy Montgomery is one of those comics that if you tried to regale your colleagues with his best bits after seeing him, it wouldn't work. Many years ago my parents discovered the IT Crowd and they were unbelievably tickled by it. One day they were at my house and they'd watched a particularly hilarious episode with a particularly hilarious part and they tried to recount that part to me and Kim. It was one of the most painful moments of my life listening to them a) try to capture the funny, b) word for word c) get it wrong d) squabble among them over what the exact right line was e) take longer than an actual episode of the show to recount this part.
Regaling people about Guy's comedy is like that, but worse.
Because Guy's comedy is indescribably genius.
He doesn't really do thematic shows. Or points. Or even coherence sometimes. But it is funny. So very funny. He has probably ascended to being my favourite Kiwi comic of his generation.
This year's show is basically more of the same if you've seen Guy before. He tells stories, makes observations about us, and self-reflects. Also he makes some incredibly insightful and cutting remarks about his age-group. This insight suggests that Guy could be an amazing commentator-style comic too if he chose to, but he just doesn't have to, because what he does now is so fucking enjoyable.
Not everything lands, but not everything has to land with Guy because there is so much to take in during his one hour show. His delivery isn't rapid fire, but he still manages to fit more into a show than most. His mastery of timing, patter, pauses, and his use of his weird ungainly body to wring laughter from just tapping a wall is excellent.
When I reviewed his Billy T winning show in 2014 I said it was the best Billy T nominated show I'd seen since Steve Wrigley. This year's show is better because Guy is a better comic. And if you miss out this year then that's a sad because I hear he's bailing on NZ soon.
Guy Montgomery: he's quite good.
Guy Montgomery in Let's All Get in a Room Together
Wellington, Fringe Bar, May 2-6, 8:30pm
TICKET PRICES
Full Price $25
Concession $20
Group 5+ $20
Cheap Wednesday $20
*service fee may apply
Auckland, Basement Theatre, May 9-13, 7pm
TICKET PRICES
Full Price $25
Concession $20
Group 5+ $20
Cheap Wednesday $20
*service fee may apply