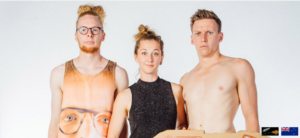 Laser Kiwi is a show put on by Imogen Stone, and the Jarvie brothers – Degge and Zane. The trio take the approach of flinging out as many ideas as possible and seeing what hits. If you've ever played Smooth Moves on the Nintendo Wii, then it's sort of like that. Only funnier.
The concept is based on the now infamous Laser Kiwi flag, which to this trio showed the best of New Zealand, that we're prepared to put ideas out there, no matter how ridiculous, and have a laugh. So that's the show. It crams in as many ideas as possible, no matter how ridiculous, and they hope for a laugh.
Each idea is a vignette ranging from maybe 30 seconds to some that last minutes. Some are outrageous, some are tame. Some require nothing but words to milk a laugh, and some actual talent. Imogen in particular is a hell of a performer, bringing a range of circus skills to the show that seemed to exceed anything the boys could manage.
But this is a comedy show, and as they themselves acknolwedge, it's important to get laughs. And they do.
Not every thing works, not every idea is a good one. Some are a bit shit, some are ok but there are plenty that are outstanding. It's bizarre and surreal but also eye-wateringly funny in parts. Zane in particular is a very very skilled and deft humourist. His facial expressions, timing, everything about him is slick and polished and he has excellent comedy chops. Degge is the sort of wild man to a wild group while Imogen seems to get the straightest role; though this could also be that she struggled in parts with the scripted comedy, not quite having the same delivery as Zane.
The show won't be for everyone. It's a strange one, but it was definitely for me. It's wild and loose and untamed. In fact it's probably well described as the New Zealand version of last year's Lords of Strut.
At the night I went there were a couple of very young children sitting front and centre. Perhaps don't take very young children to see them. It's possibly not appropriate (read: definitely not appropriate).
Some of the best skits are variations on well known tropes, the Japanese game show is particularly brilliant, as is the space exploration. Some are completely out of left field and some we don't get to see at all.
I really dig shows that go beyond just standard stand-up and this is certainly that. Well worth a look if it hasn't already sold out.
Wellington, Hannah Playhouse, May 4-6, 7pm
TICKET PRICES
Thursday $25
Friday & Saturday $28
Concession $22
Group 5+ $20
*service fee may apply