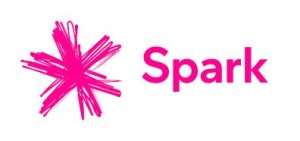 We're always very quick to complain when customer service is shit (see Fone,Voda).But today I had excellent customer service, so I thought I'd share it, because not enough people praise companies when they are good.
I bought a data add-on from Spark last month, and then this morning I got a text telling me it was going to renew. I did not want that, so I went to the Spark website to try and stop it. I accidentally created a "Myspark" account for my entire organisation instead of just me, so I had to go to the live-chat option to sort it out.
What follows is the transcript.
Spark : Question:I have inadvertently signed in to MySpark as my work and I don't want to do that.
David : Hi Claire!
Claire : Hi there David 🙂
David : So I wanted a MySpark account because I bought some data as a one off
David : and I wanted to not renew it
David : so I got a MySpark account
David : except it's not just me I have a myspark account for
David : I have my entire company!
Claire : Oh no!  Okay, so when you say you've signed in as your work, what do you mean – oh, okay….
David : And…that seems bad.
Claire : We can sort this!  What's your number?
David : Phone number? *** *** *****
Claire : Let me take a quick look, I won't be a sec 🙂
David : Cool. I'll play candy crush.
Claire : Ha!  You do that 🙂
Claire : Righto – found the registration…so this is a work phone, yes?
David : Yeah.
Claire : Did you create the myspark registration, or was it already active?
David : I created it, like 5 minutes ago
Claire : Cool….want me to delete the registration?
David : Yeah I think that's probably best.
David : But I also really don't want the data add-on I bought to renew.
David : does your avatar have an eye patch?
Claire : Yup, I'm a pirate.
Claire : A real one.
Claire : Argh!
David : Amazing.
Claire : Yup, gotta work nowadays to cover ship repairs.
David : so you are a kind hearted pirate
David : which is the best kind
Claire : All done 🙂  Stopped the renewal and cancelled the registration for myspark 🙂
David : You are truly a champion of people.
Claire : no no…very mean hearted and fearsome…just helpful too.
David : hahaa well thank you very much for your mean hearted, fearsome, helpfulness.
Claire : fear me.
Claire : no probs 🙂
Claire : Anything else I can help with today?
David : Nope, I am both satisfied and quaking in my boots
David : so you have succeeded.
Claire : Excellent 🙂
Claire : My job is done.
David : Thanks again! And have a hearty day.
Claire : have a great day 🙂
Claire : Argh.
David : Yeaaagh
So to "Claire" at Spark, whoever you are, you are awesome. Good on you for showing some personality.