So the title of this post is not my position, god no it isn't. It's the position of Ohariu MP and United Future leader Peter Dunne.
@DaveStonyer the problem is that the term New Zealand comedian is an oxymoron

— Peter Dunne (@honpeterdunne) March 26, 2015
And just in case he deletes the tweet, here's a screen shot: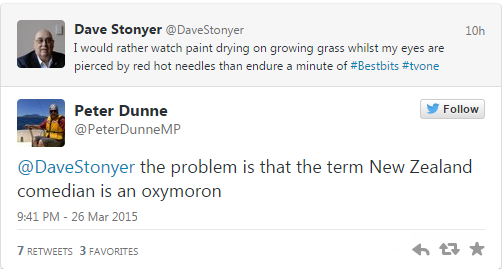 So to Michele A'Court, Jeremy Elwood, Brendhan Lovegrove, Flight of the Conchords, Urzila Carlson, Ben Hurley, Steve Wrigley, Te Radar, Jarred Christmas, Paul Ego, Tim Batt, Guy Montgomery, Rose Matafeo, Mike King, Ewen Gilmour and the rest of you, I'm sorry. You're not actually funny. Or comedians. Because New Zealand comedians, THEY ALL SUCK.
Haven't we put this trope to bed already? To see it come from our politicians is kind of depressing. Particularly when "Peter Dunne's political party" genuinely is an oxymoron.