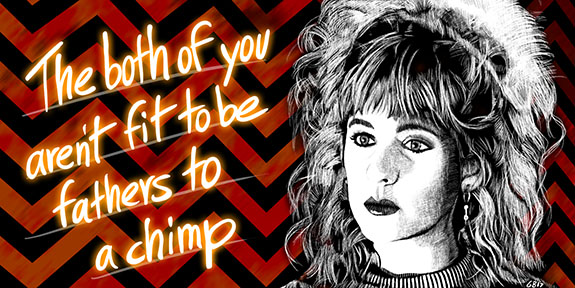 It's not too late to catch up with the #TwinPeaksRewatch! Check the schedule at the bottom of this post!
This week the #TwinPeaksRewatch is up to episodes 21 and 22.
Our essay is delayed by technical problems, so while we wait you can take more time to appreciate the lovely illustration above by Grant Buist (@fitz_bunny), check out his strip Jitterati.
You'll also find below the details of the original NZ screening of these episodes, courtesy Paul Scoones.
—-
Grant Buist's livetweets of these episodes (click on a tweet and scroll down to read the whole sequence):
Episode 21, aka Episode 2.14, aka 'Double Play', because it's all about the corporate intrigue now, like Star Wars 1-3. #TwinPeaksRewatch

— Fitz Bunny ⭐️ (@Fitz_Bunny) April 9, 2017
Episode 22, aka Episode 2.15, aka 'Slaves and Masters'. #TwinPeaksRewatch

— Fitz Bunny ⭐️ (@Fitz_Bunny) April 9, 2017
—-
Listings for the original NZ screenings, thanks to ace researcher Paul Scoones:
Episode 21: 'Double Play'
NZ: 21 October 1991; Monday 11:05-12:05 (US: 2 February 1991)
Cooper tells Truman about the tragic history of his former FBI partner Windom Earle, Audrey sets up a business deal with Bobby Briggs, Leo Johnson comes back to vicious life and James is confused about Evelyn Marsh.
Episode 22: 'Slaves and Masters'
NZ: 28 October 1991; Monday 11:05-12:05 (US: 9 February 1991)
Truman and Cooper try to track down Cooper's former partner, Windom Earle, Ed Hurley cooks for Norma, Dr Jacoby changes the course of history, and James Hurley gets in trouble with the law.
(See Paul's full post for more information on Twin Peaks in New Zealand.)
—-
Rewatch Schedule:
Join the hashtag #TwinPeaksRewatch
15 Jan: Pilot: Starting at the start
22 Jan: Eps 1 and 2: Damn fine cup of coffee
27 Jan: Eps 3 and 4: Laughing at prayers
5 Feb: Eps 5 and 6: Invitation to Love
12 Feb: Ep 7*: Biting the bullet
19 Feb: Ep 8: We want to help you
26 Feb: Eps 9 and 10: Bury her deep enough
5 Mar: Eps 11 and 12: Sometimes the Can-Do Girls Can't
12 Mar: Eps 13 and 14: Missoula, Montana
19 Mar: Eps 15 and 16: That gum you like
26 Mar: Eps 17 and 18: Blessed with certain gifts
2 Apr: Eps 19 and 20: Halfway through living it
9 Apr: Eps 21 and 22
16 Apr: Eps 23 and 24
23 Apr: Eps 25 and 26
30 Apr: Eps 27 and 28
7 May: Ep 29**
14 May: Fire Walk With Me***
21 May: NEW TWIN PEAKS!
* optional: The Secret Diary of Laura Palmer and The Autobiography of Dale Cooper books
** optional: The Secret History of Twin Peaks book
*** optional: The Missing Pieces