The Ruminator presents: The Official Ruminator Twin Peaks Rewatch Companion!
In the coming months, we will follow along with the great Twin Peaks rewatch (see end of post). Join us every Tuesday for some tasty ruminations on Twin Peaks from a bunch of great writers! (Maybe including you?)
This week: start your rewatch with the feature-length pilot to Twin Peaks! Here's Ruminator regular Morgan Davie to set the scene…
When Twin Peaks came to New Zealand, we were young. We liked St Elsewhere and Cheers and Dallas. It was Ancient Days, people. Your television was a curving screen the size of a magazine spread, and the picture was grainy and flickery and colours didn't always stay where they were supposed to. On these crappy devices appeared a TV show that looked and sounded like a film. It wasn't just the cinematography and the soundscape, it was the swagger of it – the opening sequence at the mill with Jack Nance's character going down to the river to fish, taking his time, and then the unsettling discovery on the bank – the sheer confidence with which we were brought into this world, and layer after layer was peeled delicately back. It was revelatory.
We didn't know what the hell to make of it. We didn't know that the whole genre of prestige TV was being mapped out in front of us, that the pathway to Sopranos and Deadwood and Breaking Bad and Mad Men and Game of Thrones was right there, wrapped up in the same plastic, waiting to be revealed. How could we know? It was new, and special, and strange, and there were no rules.
The show landed in NZ in April 1991 on the still-new third channel, TV3. Over a year had passed since the show's US debut, but time moved slowly then and the wait didn't matter. But we had felt the wake of its presence overseas, the waves landing on our shore: this show is amazing, the waves whispered, and people will Lose. Their. Shit.
This was a precious opportunity for TV3, which was, frankly, desperate for content. (Check out these listings from 1991 – poor old TV3 is a wasteland.) Which is how we ended up seeing perhaps the single most misguided promotional effort in the history of dumbass New Zealand promo efforts: the Laura Palmer billboard. Let me quote local correspondent Kerrin Jones's report in the Wrapped In Plastic magazine:
Twin Peaks was one of the first major programmes purchased by TV3 and was promoted heavily in the weeks leading up to its debut… billboards featuring a fake body wrapped in plastic with the question "Who killed Laura Palmer?" appeared in Auckland, Wellington and Christchurch. Designed by the advertising agency Colenso, these billboards became quite controversial… New Zealand's Advertising Standards Complaints Board found that the billboard "breached standards of good taste and caused undue offense to a significant section of the community".
Yes. Here in staid, proper New Zealand, they dangled fake dead girls from billboards. Because Twin Peaks is special, and no rules apply. (Also, the campaign won a major international advertising prize, go figure.)
I had just turned fifteen and watching the pilot was like tumbling into another world – even more so with episodes one and two following the very next day, the closest you could get to a binge watch in 1991. And if you want a barometer for the weirding, warping influence of this show, how about this: a few days later I suggested to my English teacher that my friends and I should do an assignment on news media as if we were writing the newspaper in the town of Twin Peaks. Somehow, this worked, and three friends and I were allowed to ditch school for half a day so we could go to my house and watch television. This was not normal. But a world with Twin Peaks in it becomes a little bit magic.
With new episodes on the horizon, I hope you'll take the opportunity to dive into the original show. Start this week with the pilot. Settle in and enjoy this splendid, bewitching, bewildering feature-length entryway to the world of Twin Peaks. Revel in Agent Dale Cooper's bright-eyed enthusiasm. Appreciate the unique way receptionist Lucy transfers a phone call. Delight in the mischief of bored rich girl Audrey. And brace yourself for the glimpses of something very dark and very wrong lurking in the woods and the shadows and the steady cycle of a ceiling fan.
Welcome to Twin Peaks.
—-
Original NZ screening dates and Listener listing info, thanks to TV researcher extraordinaire Paul Scoones:
(See Paul's full post for more information on Twin Peaks in New Zealand.)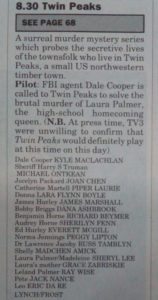 Pilot: 'Northwest Passage'
NZ: 8 April 1991; Tuesday 8:30-10:30 (US: 8 April 1990)
A surreal murder mystery series which probes the secretive lives of the townsfolk who live in Twin Peaks, a small US northwestern timber town. Pilot: FBI agent Dale Cooper is called to Twin Peaks to solve the brutal murder of Laura Palmer, the high-school homecoming queen.
(Notes: previously scheduled on 2 April 1991; Tuesday 8:30-10.30, with the same billing details, but did not screen. The Listener noted in that issue that 'At press time, TV3 were unwilling to confirm that Twin Peaks would definitely play at this time on this day.' Feature article to accompany 2 April non-screening: 'Strange Crew' by Shelley Howells, profiling each of the characters. 8 April: 'Starts Today', rescheduled from previous week. 8 April 1990, exactly one year earlier, was the date of the series premiere in the US. Was there perhaps a rights restriction lifted after one year?)
—-
Rewatch Schedule:
Join the hashtag #TwinPeaksRewatch
15 Jan: Pilot: Starting at the start
22 Jan: Eps 1 and 2: Damn fine cup of coffee
27 Jan: Eps 3 and 4: Laughing at prayers
5 Feb: Eps 5 and 6: Invitation to Love
12 Feb: Ep 7*: Biting the bullet
19 Feb: Ep 8: We want to help you
26 Feb: Eps 9 and 10: Bury her deep enough
5 Mar: Eps 11 and 12: Sometimes the Can-Do Girls Can't12 Mar: Eps 13 and 14
19 Mar: Eps 15 and 16
26 Mar: Eps 17 and 18
2 Apr: Eps 19 and 20
9 Apr: Eps 21 and 22
16 Apr: Eps 23 and 24
23 Apr: Eps 25 and 26
30 Apr: Eps 27 and 28
7 May: Ep 29**
14 May: Fire Walk With Me***
21 May: NEW TWIN PEAKS!
* optional: The Secret Diary of Laura Palmer and The Autobiography of Dale Cooper books
** optional: The Secret History of Twin Peaks book
*** optional: The Missing Pieces