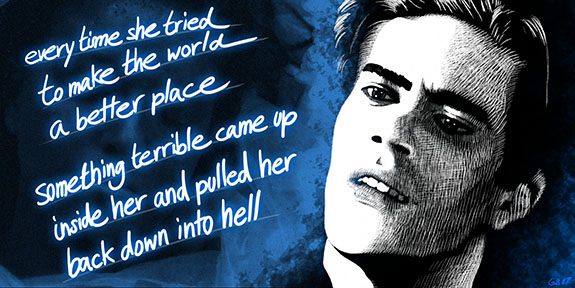 Have you tasted the #TwinPeaksRewatch cherry pie? Check the schedule at the bottom of this post – episodes five and six are on the menu this week!
This week's offering on episodes 5 and 6 is by Russell Andrews (@Russell_Andrews). Russell enjoys cult TV and hate-watching Avatar.
Illustration by Grant Buist (@fitz_bunny), check out his strip Jitterati and his episode-by-episode tweets (linked below).
Also starting this week, we're adding in something new – the listing from the Listener for when these episodes originally screened in New Zealand! This information has been collected by Paul Scoones, and I've gone back and added this info to the first three posts in this series.
—
We're deep into the dark forest of season one, and the twists and turns are coming fast. This is the point in where we lead up to a major plot revelation, and in preparation for this the characters are rounded out and developed. We're learning more about the characters, and new relationships are being formed and old ones being revealed to us. And in this particular TV series, each question answered leads on to another mystery.
David Lynch likes to remind us we're watching an artifice, a TV show. In 'Invitation to Love' he creates a funhouse mirror reflection of the Tv show we are immersed in. It serves as a Brechtian device, which is to say that it reminds us that we're watching a soap opera, that it's all made up. That the stories and plots and characters are just as artificial and contrived as Chet's poor fate – and yet, we can't help ourselves, like Lucy Moran, getting lost in it. Because it's just a little bit more real than real life. Because it's a mirror held up to ourselves and our world. Lynch wants us to think about what we've seen on his TV show. This TV dream is important, because it's showing us something pretty important about ourselves and the world around us, something we try very hard every day to ignore. It's right there in our faces. He even puts it in the dialogue for us to see.
Episodes 5 and 6 do a couple of important things. We're now at a point where a new ground rule of the universe is declared, a place of mystery is replaced with another place of mystery, and there are three sets of detectives running in parallel trying to solve the mystery, all for their own reasons.
First – the new ground rule. It's finally established that dreams are real. Dale Cooper's dream about the one-armed man leads to a vital clue – Waldo the bird. Mrs Palmer's vision of a gloved hand taking the half a heart necklace turns out to be true. So if that's true – then her vision of Bob must be true as well – so who is Bob? Where is he? Is he the killer? And why is he in Dale Cooper's vision as well? As Coop himself says, "There's no logic at work here. Let it go." We're in a dream. A dark dream but one where good things can happen, and we might learn something along the way.
The whole TV series follows dream logic. From the opening shot in episode 5 of dark jagged branches clawing through space to a pristine home, to the absurd coincidental logic of the log lady, dream logic is everywhere. So is sex – always there in a subconscious, ready to burst out. Beneath this so called wholesome world sexual totems are ever present. One-Eyed Jacks, Twin Peaks, the Horne's – all euphemisms, double entendres. As Dr Jacobi, the Loki figure of Twin Peaks says himself – "The problems of our entire society are sexual in nature." Twin Peaks, and the murder of Laura Palmer are an illustration of this – the dark desires buried in the subconscious of our society lead to hate, fear and darkness. And probably the source of Deputy Brennan's sublimated premature ejaculation problem, manifested when he drops his gun and it goes off. Sex is everywhere in Twin Peaks. "What happened when you first made love to Laura?" asks Dr Jacobi in an amazing scene where he turns the tables on Bobby Briggs, "Did you cry? And what did Laura do? Did she laugh at you Bobby?"
In his famous FBI jacket, Dale Cooper and his detectives find Jacques Renault's cabin in the woods – and the dehydrated bird Waldo. It's the buried place of the subconscious – the red curtains of Dale Cooper's dream – and hidden in it a sex magazine, with a barely identifiable Laura Palmer. It's desire for her that brought all the darkness out, and now we have a link to Hank, whose smarmy fake charm threatens star crossed lovers Norma and Big Ed, and Leo Johnson, whose malevolence makes us fear for Shelly and Bobby, playing like little kids at being tough guys. Leo is the real deal, a killer and a thug, and Bobby and Shelly are just playing house. We watch and we worry they're going to get eaten alive.
We now have three sets of detectives working to solve the murders. First, Dale Cooper and his Book House boys, combing through the vet records. Then going deep into the basement of the male psyche, where they bare their souls about women, and compare pistols. Then finally uncovering the cabin in the woods and the link to the drug trade. Maddy, James and Donna – working through their teen detective novel to try to find the killer. And finally Audrey Horne, the bad girl who just wants to be good, the femme fatale's femme fatale, who can't help but be drawn to the pure, gawky, clean cut and earnest to the point of Asperger's figure of Dale Cooper. Audrey blackmailing and flattering her way to the Department store perfume desk, to investigate Laura's death.
And then – the grief -the endless pointless unending grief of Leland Palmer, who can only lose himself in music and dancing. He stumbles into the signing party for a valuable deal – for the Ghostwood Estates, with the gigantic and boisterous Icelandic delegation. He starts a mad, distraught dance and to save the deal, Ben Horne tries to cover it up as a local dance. He's – imitated by the Icelanders in a farcical scene where you laugh and then realise what you're laughing at – the uselessness of grief, our inability to do anything with it, the limits of our compassion. And behind the wall, Audrey watches, shedding a tear, a femme fatale with a heart after all. Having felt something, having felt vulnerable, she climbs into Dale Cooper's bed, and says "Please, don't make me leave." Does he make her leave? Find out next week on 'Invitation to Love'…
—-
Enjoy Grant Buist's livetweet of the episodes: (click on a tweet and scroll down to read the whole sequence):
Episode Five, aka Episode 1.06, aka 'Cooper's Dreams'. MUTE ME NOW, BRO #TwinPeaksRewatch

— Fitz Bunny ⭐️ (@Fitz_Bunny) February 5, 2017
Episode Six, aka Episode 1.07, aka 'Realization Time'. Bit on-the-nose that, German TV? #TwinPeaksRewatch

— Fitz Bunny ⭐️ (@Fitz_Bunny) February 5, 2017
—-
Listings for the original NZ screenings, courtesy of ace TV researcher Paul Scoones:
(See Paul's full post for more information on Twin Peaks in New Zealand.)
Episode 5: 'Cooper's Dreams'
NZ: 30 April 1991; Tuesday 8:30-9:30 (US: 10 May 1990)
Cooper and Truman meet the Log Lady and find a gruesome crime scene in the woods. James and Donna take Madeline Ferguson into their confidence.
Episode 6: 'Realization Time'
NZ: 7 May 1991; Tuesday 8:30-9:30 (US: 17 May 1990)
Agent Cooper and Ed pay a special visit to One-Eyed Jack's while Audrey Horne works undercover as a host there.
—-
Rewatch Schedule:
Join the hashtag #TwinPeaksRewatch
15 Jan: Pilot: Starting at the start
22 Jan: Eps 1 and 2: Damn fine cup of coffee
27 Jan: Eps 3 and 4: Laughing at prayers
5 Feb: Eps 5 and 6: Invitation to Love
12 Feb: Ep 7*: Biting the bullet
19 Feb: Ep 8: We want to help you
26 Feb: Eps 9 and 10: Bury her deep enough
5 Mar: Eps 11 and 12: Sometimes the Can-Do Girls Can't
12 Mar: Eps 13 and 14
19 Mar: Eps 15 and 16
26 Mar: Eps 17 and 18
2 Apr: Eps 19 and 20
9 Apr: Eps 21 and 22
16 Apr: Eps 23 and 24
23 Apr: Eps 25 and 26
30 Apr: Eps 27 and 28
7 May: Ep 29**
14 May: Fire Walk With Me***
21 May: NEW TWIN PEAKS!
* optional: The Secret Diary of Laura Palmer and The Autobiography of Dale Cooper books
** optional: The Secret History of Twin Peaks book
*** optional: The Missing Pieces