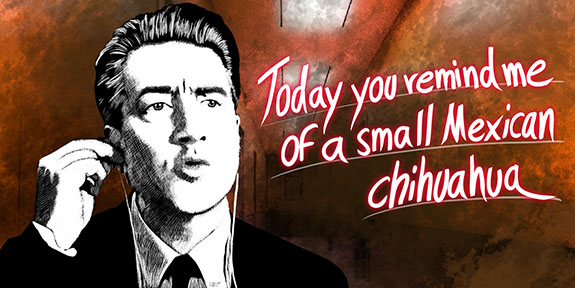 It's not too late to catch up with the #TwinPeaksRewatch! Check the schedule at the bottom of this post!
This week's entry on episodes 13 and 14 is written by Demi Schänzel (@idlemurmurs).
Illustration by Grant Buist (@fitz_bunny), check out his strip Jitterati.
You'll also find below the details of the original NZ screening of these episodes, courtesy Paul Scoones.
—-
Diane, I write this with the softest in apologies, as most of these murmurings were written during the earlier hours of the morning, nuzzled close over damn fine cups of coffee and with much in the way of sleeplessness to tide me over. Nevertheless, here is a gentle collection of uncollected musings and similar such things.
•
Somewhere, a stone tumbles towards the lost eddies of some seemingly unremarkable mountainside lake, causing ripples of untold understanding.
Descended from one of the victims of the Salem Witch Trials, young Ray Bradbury was an avid reader who was often found snuggled away in the dusted armchair of some long forgotten bookstore. A young boy who with time would eventually go on to shift the entire history of literature itself.
Bradbury went on to publish the October Country, a collection of short stories that dabble in feelings of mortality, displacement and an almost possessive sense of the grotesque. Stories brimming with ordinary humdrum people in seemingly ordinary situations, until their entire sense of being shifts and they often discover themselves succumbing to pure hysteria and madness.
Sounds a little familiar, doesn't it?
They're tales that expose a kind of natural horror to the universe, and the suggestion that our own minds are often our greatest undoing. An entire cosmos balanced by people so enveloped with empathy that it eventually leads to their own self-imposed demise, and those who merely take pleasure in the distanced suffering of others.
•
If self-expression is a reflection of the socio-political setting we discover ourselves within, then it becomes entirely clear why the collection of stories within the October Country were written at all; a response to the relentless inflictions of horror America felt during that period. Still ravaged by the great depression, and with the rise of the cold war and the uncertain future it promises, it's become a key reflection of a dire time our human history.
In this mere sense, Twin Peaks may almost be considered the aftermath of such written expressions, the last chapter in a long road of literary history, when the dust has settled and only a distilled sense of meaningless remains. It brings with it a rise in post-gothic narrative, a continuation of seemingly humdrum people eventually succumbing to dissent and paranoia; with the overtones of something more than the mere ordinary being at the heart of it all.
David Lynch is often praised as a linchpin (heh) in these written endeavours, taking these tales of raw gothic anxiety and adapting them to suit a more suburban setting. Tales of close interwoven communities fragmenting under close contact with the surreal; a narrative something that's found itself whistling along in much of his further work.
•
Meanwhile, nuzzled close into the mountainside along the Canadian border, remains the fictional town of Twin Peaks. With a small population that's swiftly dwindling by the episode, it's become a geographical smorgasbord for murder, suicide, arson and a deepest sense for the supernatural.
From a speculative perspective it's been a gentle climb so far, and it's almost surreal to believe that only a few weeks have passed since Cooper wandered by to comment on the pure blissful nature of this gentle town's surroundings. Back when this was still a story steeped in a mundane kind of normalcy, before stumbling into any manner of unsettling moments and apparitions of pure dread and fear.
Though what may once have been written away as the mere illusions of a few now burns bright without hesitation. As in one mere harrowing moment we're finally confronted with the murderer of Laura Palmer, a spiritual something that festers away on the fear of the living and manifests itself in the form of pure slaughter.
It's a heart-wracked gathering of episodes that resonates deeply within the entirety of our cultural peripheral, exposing something we've all held close to our heart in fear at some occasion or other, the possibility that the loved ones we adore are not all who they entirely seem. And I have no remaining words to place the feelings I'm feeling within.
Mostly, this is a show that occasionally leave you stunned in mute silence, as your entire disposition towards this gentle picturesque town shifts and you're found tumbling into the pure carnage of Lynch's imagination, again and again and again.
Somewhere, distantly, an owl calls out and all is still.
Little witch boy, part-time poet and occasional code noodler, Demi appreciates hugs and any manner of written murmurs. Known to dabble in design, mostly non-binary and supposedly has pretty handwriting – there's little more to say, really.
—-
Listings for the original NZ screenings, courtesy of ace TV researcher Paul Scoones:
(See Paul's full post for more information on Twin Peaks in New Zealand.)
Episodes 13 & 14: 'Demons' & 'Lonely Souls'
NZ: 2 July 1991; Tuesday 8:30-10:30 (US: 3 & 10 November 1990)
Cooper and Truman raid One-Eyed Jacks, Donna and Maddy are at the mercy of an angry Harold Smith, Shelly and Bobby "welcome home" Leo and Cooper's bureau chief stops in Twin Peaks. With some vital help from the one-armed man, Cooper and Truman's investigations finally uncover the identity of Laura Palmer's killer!
(Notes: two episodes screen back-to-back, billed as 'A double episode')
—-
Rewatch Schedule:
Join the hashtag #TwinPeaksRewatch
15 Jan: Pilot: Starting at the start
22 Jan: Eps 1 and 2: Damn fine cup of coffee
27 Jan: Eps 3 and 4: Laughing at prayers
5 Feb: Eps 5 and 6: Invitation to Love
12 Feb: Ep 7*: Biting the bullet
19 Feb: Ep 8: We want to help you
26 Feb: Eps 9 and 10: Bury her deep enough
5 Mar: Eps 11 and 12: Sometimes the Can-Do Girls Can't
12 Mar: Eps 13 and 14
19 Mar: Eps 15 and 16
26 Mar: Eps 17 and 18
2 Apr: Eps 19 and 20
9 Apr: Eps 21 and 22
16 Apr: Eps 23 and 24
23 Apr: Eps 25 and 26
30 Apr: Eps 27 and 28
7 May: Ep 29**
14 May: Fire Walk With Me***
21 May: NEW TWIN PEAKS!
* optional: The Secret Diary of Laura Palmer and The Autobiography of Dale Cooper books
** optional: The Secret History of Twin Peaks book
*** optional: The Missing Pieces