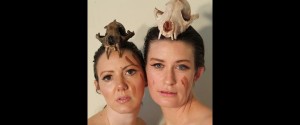 They Saw a Thylacine was awarded the Tiki Tour Ready Award at the 2013 Melbourne Fringe. Last year this award brought us Emily Taylor's Cannonball, which, having been nominated for Stand Out Performer NZ Fringe 2013 and winner of Best Solo Show NZ Fringe 2013, meant I had high expectations for this two-hander from Melbourne performers Sarah Hamilton and Justine Campbell. Expectations: Exceeded.
Opening with both women inside a large cage, beautifully lit and full of odd trinkets, it takes my date and I a moment to catch onto the quick Australian cadence; once we're up to speed though, we are all completely drawn into the two stories that unfold over the 45 minute performance. The actors alternate in their storytelling from the perspectives of two women in 1930s Tasmania sharing their last moments with the now extinct Tasmanian Tiger. The text is rich and lyrical, rhythmic and rhyming and delightful to the ear. I am struck and delighted by the parallels between the struggle of the women and their thylacines (the scapegoating of the thylacine by farmers and hunters and the indifference from the zoological community, presented alongside the narrators' experience with the patriarchal attitudes of the day), and it is clearly no accident that the beasts they encounter are also female.
As the actors remain mostly stationary during the performance, it is impressive how fully they are able to become their characters; as well as embodying the women in their own stories, they play supporting characters in the other's with a change in their voice or posture. Their presence commands our attention and their passion about the lessons we should learn from the thylacine's untimely demise is clear.
A striking start to my Fringe 2014 experience, I strongly suggest you book now – this should be on everyone's Fringe list. They Saw a Thylacine runs until Tuesday, 8pm at BATS Theatre.