Get in my belly, belly.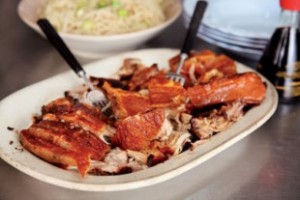 Slow Roast Pork Belly
Original recipe by Nigella Lawson
Found in: Kitchen
Sourcing ingredients: Easy – there are only five things. Including the pork.
Total preparation and cooking time: 10.5 hours (including marinade time).
Serves: Well… Nigella says six to eight people. There were four of us. We ate it all. Take that how you will.
Difficulty: Easy
When Husband and I entertain, I like to get creative in the kitchen. So I'm often racing around changing oven temperatures, cutting up vegetables, making sauces, and acting like a crazy person. All the while Husband is left to do the actual entertaining. This isn't because Husband doesn't offer to help (he does, everytime without fail). It's because I get a little possessive in the kitchen. I welcome friends to ply me with wine, but other than that, they are not allowed in. When you are a guest in my home I want to provide for you and make you feel welcome. And keep control of my kitchen. It doesn't always look like everything is under control when there's smoke billowing out of the kitchen, I have food all over my face and there's a strange smell coming from the oven, but it usually comes together in the end, and I've only fallen asleep during a dinner party once. OK maybe twice.
My first reaction when our friends chose pork was sheer delight. I love pork, it's one of my top three meats. But then it slowly dawned on me that I would be the one cooking it. Cue moment of panic.
Luckily for me, The Domestic Goddess's version of pork belly is ridiculously simple. There are only five ingredients. FIVE. Here they are:
The first thing to do was score the meat, which means to cut through the skin (but not all the way) so that when it crisps up, you are left with bite size pieces, instead of one giant slab of crackling. On reflection, that wouldn't be so bad…
My pork was already scored, but I added a few more for good measure. One recommendation – use a sharp knife, pig skin is tough.
I measured the four remaining ingredients into a bowl.
I whisked them together for about a minute, until I was left with a beautiful almond coloured paste.
I spread the paste evenly into the pork dish and then lay the pork over it, skin side up. The paste kind of squished up the sides of the pork, but Nigella says that's OK. Just like she assured me in her recipe, the paste didn't touch the rind at all. Excellent news. The preparation of the pork took me roughly 15 minutes.
Nigella says that you should marinade this overnight if you can, but I just put it in the fridge on the same morning I was cooking it. At lunch time I took it out so the meat could return to room temperature before I put it in the oven that afternoon.
I put the oven on fan bake at 150 degrees celsius. While I was waiting for the oven to come up to temperature, I lined an oven tray with tin foil and transferred the pork onto it.
As per Nigella's instructions (and if I am entirely honest, against my better judgement) I left the pork in the oven for three and a half hours. In this time, our guests arrived. I couldn't believe it, there was nothing for me to do in the kitchen. I had made everything I wanted to serve with the pork earlier, so I was free to sit in the lounge with our guests and socialise. It was incredible. After three and a half hours, I cranked the heat up to 250 degrees celsius and cooked it for a further half an hour.
After four hours were up, I was anxious to get the pork out of the oven, entirely convinced that I had overcooked it. The timer went off, the oven door was open and the pork was removed within seconds. It looked pretty done to me.
It was decidedly easy to serve up. I transferred each piece to a board and using a pair of tongs and a serrated knife, cut it into pieces and put them on a large plate.
The end result:
Crunchy but the crackling wasn't too crispy: just the way I like it. The pork itself was pretty good, although my instincts were right; I think next time I will cook it for half an hour less. For those who like their pork well done, Nigella's timings are probably right, but for me it was a little overdone. Husband made all the right noises and our guests showed their appreciation by licking their plates clean. I made a black doris plum sauce to serve with it, which was delicious. I took the recipe from one of Chelsea Winter's pork dishes which you can find here. Alongside the pork, I served a big green salad and roast potatoes, both of which I felt complimented the meal. I loved that the end result was so impressive yet took little effort, and being able to enjoy the time with our friends instead of creating havoc in the kitchen was a bonus. Not only does Nigella create amazing meals, her recipes are party friendly too. Nice work Nigella, I think you're OK.