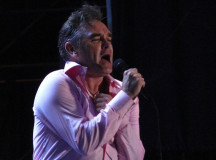 Some time between your first major disappointment and the arrival of a girlfriend – Morrissey gets you. She clears away his albums from the shelf denouncing them as "depressing" offering in exchange pat conversations and afternoons of plunger coffee. But like hepatitis A, once the Sage of Salford has you, it is forever. He remains an unlicked postage stamp deep beneath your rib cage, muttering and shaking his quiff. That's because Moz predicted the new domestic arrangement exactly . He sang it to you over and over again on "William, It was Really Nothing": "How can you stay with a fat girl who'll say" "Oh! Would you like to marry me? And if you like you can buy the ring. She doesn't care about anything."
But you don't listen. The call of people and parties is too enticing. Three girlfriends, a wife, three children, a house and seven-seater van later you curse the time wasted listening to his droning voice. If only your love had been for Prince or Led Zeppelin, something more optimistic and perhaps youth could have been met with the enthusiasm middle aged reminiscence demands. The quiff nods. Morrissey predicted this too. On Rubber Ring he sang "A sad fact widely known: the most impassionate song to a lonely soul is so easily outgrown. But don't forget the songs that made you cry and the songs that saved your life. Yes, you're older now and you're a clever swine but they were the only ones who ever stood by you."
Now you have moved on. Then again so has he. He lives now in the LA sun, with homes around the world. Despite not holding a current record deal Morrissey is still a very wealthy man whose primary source of income are the ceaseless reissues of his old material. Sorry to keep this up but the state of affairs was also foretold on The Smiths song "Paint A Vulgar Picture": "Reissue! Repackage! Repackage! Re-evaluate the songs. Double-pack with a photograph extra track (and a tacky badge)." One recent compilation was dismissed by the man himself as "feeble". While he advised fans not to buy a DVD of a concert given at the Hollywood Bowl. Nevertheless, royalty cheques roll in. Despite lengthy career lulls and absences, Morrissey knows the mere mention of his name reignites something within long lost fans akin to the activation of KGB sleeper agents. Existing in the media, the arts and publishing, acolytes abound. So when he penned a 600 page autobiography and demanded the tract be published as a Penguin Classic alongside Oliver Twist, the Iliad and Wuthering Heights, it was so. The first paragraph of the book is a bowel evacuating four pages long, evidence that not only were Penguin happy to put it out alongside the greatest books of all time, but the company was content also not to edit it.
The Mancunian baritone brogue lay dormant in me until last year. Like an announcement that the Marie Celeste would dock at the Viaduct for a family fun day, Morrissey was coming. I knew then he had to be on our show. I couched this in all sorts of false rationalisations. The man, the art must be shared with a new generation. Translated: I had to meet him. The demands were of course hugely ostentatious. His people communicated the singer would like to perform live on New Zealand television and give one interview. To achieve that feat we on Nightline cleared not just the third break reserved for arts and entertainment, but also the second usually reserved for news of war and affairs of state. My young colleagues were oblivious. But enablers abounded also. I spoke about it to John Campbell, who in his best John Campbell voice intoned the line "Spending warm summer days in doors writing frightening verse." Of course it was for me to round off the couplet, "… to a bucktoothed girl in Luxembourg." The promoters wanted him on Campbell Live smack bang in the middle of prime time. It fell through. I could barely contain my delight.
For a week before the start of a tour, Morrissey set up at Auckland's Q theatre. After a smattering of conversation it became clear, despite rehearsing there for days he had no idea what it was. "This is a nightclub isn't it?" he asked gazing around the auditorium of one of the city's most important venues. I asked him whether he had had fun in Auckland, "whatever fun is?" came the maudlin reply. Great racks and chests of clothes encircled the room as the star reclined on a chaise lounge, a tiny vassal showing him shirts for the interview. There remained the gnawing doubt that the entire venture was hugely self indulgent and would not yield a single thing for the disinterested viewer. As it turns out I needn't have worried. After exchanging pleasantries and with the merest hint of provocation, Morrissey launched into a scathing attack on Kate Middleton. The interview came just days after the suicide of nurse Jacintha Saldanha. In the mind of the rabid anti-monarchist was constructed a lurid scene where a healthy Duchess of Cambridge admitted herself to hospital on a whim and was culpable in some way for the death of the woman, then was discharged the next day "as bright as a button." The story was picked up by the Daily Mail, The Sun, The Guardian, Rolling Stone, USA Today and finally made its way back to New Zealand a few days later. After the shoot we chatted, "Are you coming to the show?" "Yes," "Haven't you got anything better to do?" he said, before vanishing when our backs were turned.
On the Saturday my desire to share the man's brilliance with a new generation had not borne fruit. When my hero came to town I always imagined he would sell out Vector Arena and all the young cool kids would be there, because they "got it". Alas beside me were my mirror images. Balding, paunchy fellows with lined faces and babysitters on the clock. The vast stadium was arranged under its cabaret setting to account for the smaller numbers. Nevertheless the performance was great. One thing Morrissey understands is why there is so much passion for him. It is that voice. A moist towel to the forehead in an uncaring world. He is the picturesque loner who speaks only to you. But there are thousands of you, millions in fact. The songs find you at a time when you are vulnerable. They do not let go. No one understands. Morrissey confirms it is right to feel this way. You do live in a humdrum town. There is no point jollying yourself up. But he also tells his audience, they are as different and as special as they believe they are. Russell Brand, Will Self and J. K Rowling are numbered amongst his fans. The audience is exhorted to take all the things about themselves that are rejected and don't work, make a collage from them and create something extraordinary. The songs are for that time between. Before the butterfly emerges. It is a debt never fully repaid.
(Feature image: Morrissey, a Creative Commons Attribution (2.0) image from Brocco's Flickr stream)
If you want to support the Ruminator, please consider making a donation via Givealittle.