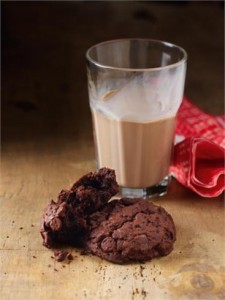 C is for Cookie, that's good enough for me.
Original recipe by Nigella Lawson
Found in: Nigella Express
Sourcing ingredients: So easy. Head to the supermarket. Find the chocolate aisle. Fill trolley with ALL OF THE CHOCOLATE.
Total preparation and cooking time: 45 minutes from go to whoa
Makes: 17 cookies (4 more than Nigella said – woohoo!)
Difficulty: Dangerously easy
Nothing beats a good chocolate chip cookie. Except maybe marriage equality and world peace, but if we are just going on simple things like "what Kim likes to eat a lot of" the chocolate chip cookie cannot lose.
I have had an obsession with chocolate for about as long as I can remember. For my 18th birthday I received my first recipe book "Totally Chocolate". Or something like that. I can't remember.  I just know I was really happy for me (and I'ma let you finish), because this book had one of the best chocolate chip cookie recipes of all time.
I've stayed true to this recipe for the last 12 years. Nigella's Totally Chocolate Chocolate Chip Cookie recipe was my first diversion from the old faithful.
I preheated the oven to 170°C fan bake and melted the dark chocolate. Nigella says you can melt the chocolate either in the microwave or in a heatproof dish over a pan of simmering water. I did mine in the microwave because it's faster. You just have to be careful it doesn't burn. I find if you blast it for 30 seconds, take it out, stir it and then blast it for a further 20 seconds, that's almost enough. If it's not quite melted, I put it in for 10 extra seconds at a time.
I mixed some of the dry ingredients together in a small bowl. Specifically flour, cocoa, baking soda (or bicarbonate of soda if we are being fancy) and salt.
In another bowl I creamed the butter and sugars. Note the plural. Two types of sugars. TWO. That's one whole extra type of sugar than I traditionally use in my chocolate chip cookies.
I took the melted chocolate, did the cooling test (for those who need a refresher on how to perform this assessment, check out my review of Nigella's Instant Chocolate Mousse here), and poured it in with the creamed butter and sugars.
I mixed it together and dropped in the vanilla essence and the cold egg, followed by the dry ingredients. I combined the dry ingredients and chocolate chips by hand; it was easier than trying to use the beater to mix the chocolate morsels through evenly.
I've never used an ice cream scoop to measure out cookie dough before, but it's genius! You use the same amount of dough every time (which means no fighting over the largest cookie), and if you use a knife to scrape it out with, you get the perfect shape too. Nigella, is there no end to your talents?
The Domestic Goddess says to place them about 6cm apart on the cooking tray, but my trays are not that big, so I put them about 3cm apart. Luckily for me, they were still cookies when they came out of the oven and not one giant, malformed, chocolate tray (but really would that be so bad?).
I set my oven timer for 18 minutes, and if you follow me on Instagram and Twitter (social media plug! @kimcooksforyou), you would have felt my pain as the minutes ticked by like hours and the house was filled with the most incredible chocolate aroma. I felt like I was smelling Homer Simpson's "Land of Chocolate".
After 18 minutes I didn't even do the test like Nigella said you should, I just whipped those puppies out and started the cooling process. I needed to eat these as soon as possible.
The end result:
Seriously Nigella, what have you done to me? I'm not even sure how to put into words just how good these cookies taste.  They are kind of like a cookie and a brownie and a block of chocolate and a cake all in one. The sizes were just right, and you only need one. I found this out because I ate seven in a row.
I've found Nirvana. I'm sorry old faithful, I won't be back.