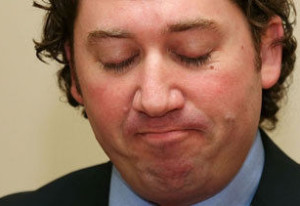 Much has been written of Aaron Gilmore and his poor decision making skills at a Hanmer Springs bar. But the whole affair has made me feel a bit icky. Not because we saw a man who seems to think he's better than the staff who serve him, there have been politicians like this since the dawn of Parliament. The ick factor comes from our relentless bloodlust and enjoyment of seeing this man fall to pieces in front of us.
The internet age has revitalised the masses' enjoyment of public floggings, not since the Romans fed Christians to the lions has there been such a revelry at personal destruction taking place in the open air. The facts of what we KNOW about that night is that Gilmore drank some beers and wine and was a plonker to wait staff. We THINK he asked "Do you know who I am?" which wasn't just ironically poetic due to the fallout of everybody now being familiar with him for all the wrong reasons, but also suggested a personal belief that his status as a lowly slotted list MP in the ruling party made him superior to his barman. Even if the latter is true, and it appears today to be increasingly likely despite yesterday's teary apology, so what? Clearly he's a plonker. But does that warrant this collective attitude as a nation that he should be utterly destroyed professionally?
I do not write this from an ivory tower – I work in radio and had my fun at Gilmore's expense on air. I certainly got caught up in the group stoning of this MP from the south. But after a couple of days, perspective should reign and the issue should be dropped. Right? The gleeful tone with which the news continues to bang on about this man's behaviour is starting to eclipse the event itself and a dark, awful side of human nature is revealing itself far more than Gilmore revealed his inner idiot after some drinks.
Loathe as I am to agree with Michael Laws, he may have had a point about this one. Gilmore didn't kill anyone, he wasn't found guilty of corruption, he was found guilty of being an asshole. And to quote my mate Matt Heath "Let he who hasn't been a dickhead drunk cast the first stone".