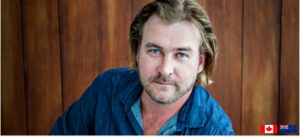 Jeremy Elwood is basically Mr New Zealand comedy at this point in his career. He is so polished, so professional that investing in his show is practically a sure thing, and Three Night Stand doesn't disappoint.
I would go so far as to say there is no other male New Zealand comic who has honed and polished his material so well. And this even goes for some of his older material, which despite having had airings at previous shows still goes down an absolute treat with the audience. He explains that there is some older material because he's recording the show so we allow it.
An Elwood show is usually made up of an affable opening where he warms us up and presents the likable face of Jeremy, before he allows the rage that simmers just below his surface to bubble up sporadically throughout the show, a cleverly crafted display of emotion that never strays into hectoring but is timed and delivered at just the right moments for maximum laughs.
The usual Elwood beats are hit again in this show, politics, religion, foibles of New Zealand and its people, a general loathing of John Key and his own search for meaning in his own existence (this has been going on for years now and one day I think Jeremy will find himself).
He engages with the audience but never in a bullying way, in fact at one stage he creates an absolutely brilliant piece of improvised comedy based on interactions with several different members of the crowd, one that had the crowd in raptures and bursting into applause.
It is a testament to his reputation and profile that on a night when other shows were struggling for numbers, Jeremy had a standing-room-only San Fran eating out of the palm of his hand.
Some of the material strays into territories that are very difficult to make funny and these are the parts where Jeremy perhaps didn't hit his mark, but despite the nature of the material, he didn't lose the audience like so many other comics could have and is quickly back on track.
His ability to get the audience laughing at, and with him is incredible. A brilliant show featuring some of his greatest hits plus some great new bits.
Despite my comments in earlier reviews that one person standing behind a microphone telling jokes seemed to be on the way out, Jeremy showed that there is still a place for this style of comedy if it's done well. And done well it is.
Jeremy Elwood in Three Night Stand
May 5-7, 7pm, San Fran
TICKET PRICES
Full Price $25.00
Concession $22.00
Group 4+ $22.00
*service fee may apply