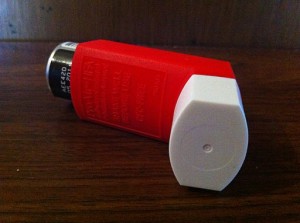 Imagine that I have asthma.  Imagine that I was diagnosed about two years ago, and since then I've been using an inhaler everyday and though my life probably isn't totally awesome all the time, I'm heaps healthier than when I was first diagnosed, which makes me happier, and more fun, and better at my job.
Now imagine that 75% of the time, when I tell people I use an inhaler, they tell me that it isn't right to take a drug every day to make me feel better, or that maybe I should try not taking it, because maybe I've miraculously stopped having asthma. Or my absolute favourite, that it's fine for me to use an inhaler, but that if they had asthma, they wouldn't.
Now replace asthma with an anxiety disorder, and replace the inhaler with the anti-anxiety medication that I take every day. If I had asthma, no one would tell me that taking medication was a bad idea, or suggest that I might want to stop taking it for a while "just to see what happens".  No one would make me feel guilty, and certainly no one would make me feel weak.  No one would tell me that they'd never use an inhaler every day, because they "prefer to sort their own problems out". People wouldn't suddenly start treating me differently because of the inhaler, or comment on how it "makes me different".
Yes, the medication does make me different. That is the point.
In the same way that using an inhaler means my asthmatic father can walk up the hill from the bus stop to his house without keeling over, and can mow the lawns without getting short of breath; my anxiety medication means I can get out of bed every day and go to work, that I have the motivation to prepare myself proper meals, and that I'm not afraid I'm going to be fired every time I have a meeting with my boss.
Last year, after about 18 months of daily dosing, I gave in to all the talk around me and stopped taking my medication. I told my doctor I was going to do it, he wasn't happy about it, but he helped me wean myself off it. I'm very lucky that when I went back to see him three months later, barely able to get myself to work each day, he just shook his head a little, and helped me go back on.
Though looking back on it, and how close I got to being back at the very dark place I was in when I was first diagnosed, I feel a little stupid but I am glad I did it. Because now I feel even more strongly that taking this medication is the right thing for me. Because I'm not weak and I'm not stupid. I have an illness, and one of the things that helps with the symptoms of that illness is taking medication.
I want to make it clear that I really really wish I didn't have to take medication. I wanted SO badly to stop, and keep doing all the other, easier, more socially acceptable things I also do to control my anxiety, and to be fine. But I wasn't.
Yes, I do think that some people are medicated unnecessarily, but this applies to the common cold just as much as it does to mental illness.
And for many of the most common medications prescribed for mental illness, if you don't need them, they do nothing except give you side effects, like antibiotics. Sometimes I wish that someone would prescribe me something fun like Valium, but no such luck.
We need to give mental illness the same status as other illness. Much like a diabetic person's body either doesn't produce enough insulin or has trouble processing it, my body doesn't produce enough certain neurotransmitters. And in many ways I am lucky – I am lucky that there is a medication that works for me, and that it was only the second one I tried.
It has taken me long enough to come to terms with taking medication every single day, and I'm really tired of being judged for it.