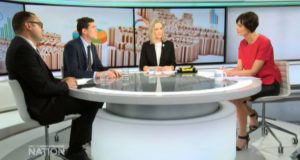 Over the weekend, on TV3's 'The Nation', the Wellington Mayoral candidates got together and had a shitfest.
Because of the glut of people running (lest we forget Celia), they had to split the debate into two sections – or tiers as it became apparent. The first section was the frontrunners, Nick Leggett, current Porirua Mayor and former Labour wunderkind, Justin Lester, current Deputy-Mayor of Wellington, and Jo Coughlan, current Wellington City councillor.
There was also a second section that had Nicola Young, Helene Ritchie and Andy Foster but for the purposes of this little anger burst I want to focus on the first section.
Nick Leggett has obviously decided to run an 'outsider' campaign, saying how awful Wellington City Council is and how he's the man for change. We all love change. Change change change. Except for when we have to do it. Nick offered us change by interrupting every other candidate and then not offering anything of any real substance.
Also, hilariously when asked what his biggest success was as Mayor of Porirua, he cited Transmission Gully. Which is amazing, because people have been talking about Transmission Gully for literally decades. Also, it's considered a Roads of National Significance meaning it has support from the Government at a national-level, and also it's a Greater Wellington Regional Council project. So good on ya Nick.
You may also have been the lucky recipient of a piece of direct mail 'from Nick' to your house, replete with a faux p.s note at the end. Seems like an expensive piece of propaganda to mail out the entire city. Well it is, but it's perfectly understandable when you know who's helping fund Nick's campaign. Former Councillor and known ACT and National party supporter Chris Parkin. Which made the exchange on the Nation even more interesting when Nick insinuated that had he stood for Labour's candidacy as Mayor he would have beaten Justin. How can you run a 'soft left' campaign when in actual fact you're taking money from a really rich, really right-wing, property developer?
This is not supposed to be a hit job on Nick, heck I was considering giving him my #1 vote but that was based on what I thought Nick was, which was a centre-left guy who seemed nice.
After watching his bullying tactics on the Nation and learning that he's funded by someone who tends to give to right-wing candidates, I can say that Nick is no longer the candidate for me.