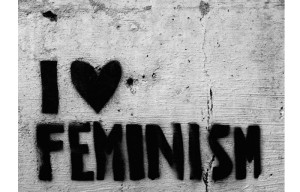 So this is a post I've wanted to write for a long time. But it's been hard to get it right in my head, let alone down on page. So what you get is a stream of consciousness.
A lot of people have said to me there's an awful lot of feministy articles on the Ruminator. And they're right. I'm the curator of this blog so I get the final say in what goes up. And I like feminism. A whole lot. I've had discussions with other people over whether or not you can be a male feminist or if you can support it from the sidelines but not actually be one. Like the All Blacks I guess. But I don't think that's right. I think that if you're into gender equality then you're a feminist. Because right now genders aren't equal.
I've not always felt this way. Back in my university days I was the sort of dickhead who'd say "Why do we have a Minister of Women's Affairs but not a Minister of Men's Affairs?"
Because I was a bit of a dick.
Then I went out into the workforce and I saw how women were treated. I saw how women were passed over for promotion, paid less, objectified and I went "fuck".
And so now I'm a male feminist.
Which is weird sometimes. Because I find myself in situations where I'm more pro-women's rights than some women. Example: someone I know was telling me that their CEO calls women staff members "front bums" and the most senior woman on staff was "Queen of the front bums". I was really angry. I couldn't believe that a person in a position of authority could demean an entire gender like that.
"GRRRRR" I said.
In rage I told my family about it. Of the four I told, the only other person in the least bit appalled was the other male. The three women all thought it was "funny" and "harmless fun". So I'm a confused male feminist.
And I don't know what to do it about it. Because I live in a liberal bubble of progressive beliefs. Most of my friends think like I do. My twitter feed is filled with people who think like I do. And yet I know that not everyone thinks like I do (if only). I know there are some politicans who don't think like I do, and that's a real shame.
Here's a twitter conversation I had with National MP Tau Henare about the latest Tony Abbott gaffe where he said that one of his Liberal party candidate's pluses was her "sex appeal":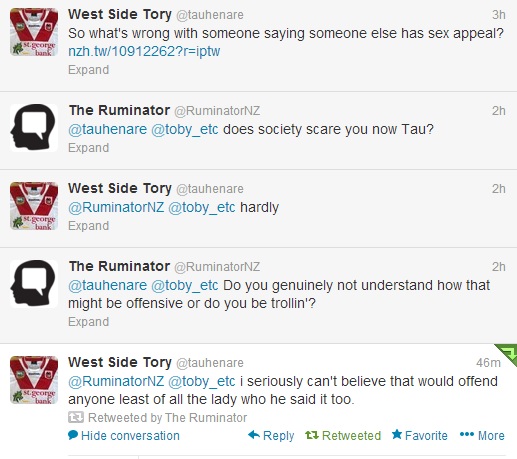 That's our elected official right there. Not getting it.
So I'm a little betwixt and between. Because I know most of my friends think like I do. That we don't have gender equality and that we should be pushing hard for it. But if you tell someone you're a male feminist, and they're not a SNAG (whatever happened to THAT acronym?), then they'll call you a "fag" or a "poofter" or some other anachronistic word and laugh off your concerns because either "you're a man, what do you know?" or "what are you talking about? Women run the world!"
And I don't know how to deal with these retorts either.
And I get confused by strange things. Like the word "cunt". I'm a sweary guy. I like to swear. Fuckedy shit fuck fuck. And I like(d) the word "cunt". But I'm not sure if it's anti-feminist. Some say it is, some say it isn't. So I get nervous now. Same with the word "lady". That gets a lot of flack for being demeaning. So I've tried to remove that word from my vocabulary.
One word I've completely removed is "bitch". That's a horrible word isn't it? So I've got clarity on that one. No bitches.
But as for everything else, I don't know. I want to be a better feminist. I want genders to be equal and I want to help make that happen. I just don't know how.
Cover image by Jay Morrison, flickr