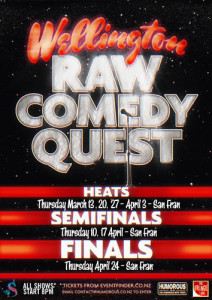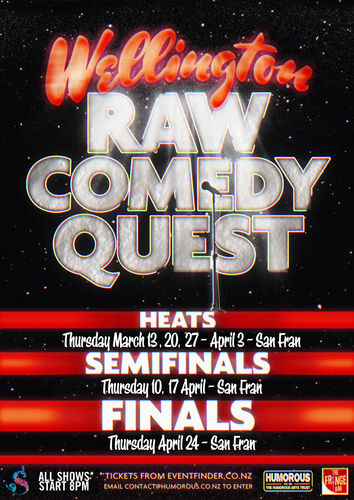 Tonight at the San Francisco Bath House in Wellington it's the final of the Wellington Raw Comedy Quest.
Many years ago, I took part in Raw and I got second. Which is a poor reflection on Wellington comedy. However there have been big success stories come out of this competition. So tonight I recommend you get along to the Bath House and see in ANZAC Day like our war heroes would want us to, by laughing either with a great comedian, or at a terrible comedian. Most likely you'll see both.
It's a really good idea to go see people while they're still cheap. Because no doubt some of them will become successful and charge way more for their tickets. Like how the White Stripes played at Bodega all those years ago and charged a nickel to go see them. Then when they came back successful they played somewhere bigger and charged $400,000 per ticket. Don't be that guy who keeps whining about it. Don't.
Anyway, this is pretty much an advertorial but the development of local comedy is important to me. Here's the press release concerning the competition:
The Search Begins
The Wellington Raw Comedy Quest returns to the capital to find Wellington's funniest face for 2014.
The Winner and runner up are flown to Auckland to compete in the National Raw Comedy Quest final, the biggest comedy competition in New Zealand.
Previous Wellingtonians to have gone on to become National winners include Cori Gonzalez-Macuer, Jerome Chandrahasen and Sarah Harpur. Star of Jono & Ben, Guy Williams also got his start in the Wellington Raw Comedy Quest.
With only 6min to impress the judges, this can the first step on the path to becoming a professional comedian, or it can be the last. Leaping straight into a comedy pressure cooker, this competition can make dreams or break hearts. Either way, every competitor will have joined a long list of Kiwis vying to become the National Raw Comedy Quest champion.
Four heats, two semifinals, one Wellington final, one national final, $2000 in prize money, one winner.
Wellington Final 
$20
8pm San Francisco Bathhouse
Thursday 24 April hosted by Vaughan King