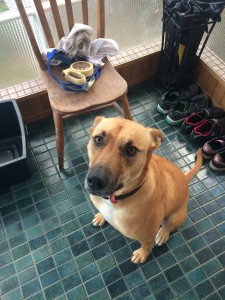 Ruby is my dog.  I love her.  I hate her.  Dog owners will know what I mean.  I hope.
Our usual routine is my wife walks her in the morning and I'm tasked with afternoon duties.  Yesterday's afternoon walk was a bit odd, for a number of reasons.
Firstly, I'd decided to write a review of the walk.  Reviewing is hard, in that it takes you out of the moment of what you're doing to think about what you're doing.  The whole point of doing this is for me to engage with parts of my day that usually pass unnoticed and the whole point, or at least the joy, of the afternoon walk is to disengage.  Just be outside with my dog.
The other reason is that I didn't want to run into anyone.  This isn't unusual.  Anxiety and whatnot often conspire to make it tough to leave the house, but yesterday I didn't want to run into a friend of mine.
One of my best mates is also my neighbour and we run into one another frequently enough on concurrent dog walks.  He's also one of the guys in the gig I fucked up on the weekend.  In fact, it was Terry that walked me off stage like a drunken uncle.  Fuck, I was so mad!  I was also deeply embarrassed.  I didn't want to deal with any of that yet.
Gore-tex and cap on to protect against possible rain and discovery, Ruby and I headed out at around 4pm.  The whole first part of the walk was totally ruined for me as I thought about what I'd write.  Writing a review of composing is a little meta, even for me, so I took a bunch of deep breaths, resisted the urge to pop a Xanax, and focussed on the dog who was gathering maximum sniffage.
By the time we reached Henderson Creek I'd relaxed enough to unzip my jacket, Ruby zigzagged, sniffed and peed, and I'd actually managed to get out of my own head.  Good boy.
The way Ruby stopped and looked back down the path I was pretty certain there was another dog coming up.  Of course it was Terry's dog.  Of course it was.  The thought of just taking off crossed my mind, like the Beatles crossing Abbey Road (too much?), but, fuck it!  I don't even know why I was so concerned, but uncertainty is no barrier to freaking out.
The dogs cavorted and, as we disentangled limbs and leads, Terry and I said our hellos.  Then came the "sorry for the other night"s and the "nothing to apologise for"s and the relief that came with them.  For me, at any rate.
I was doing a bit.  The other night.  It was material.  I wasn't having a "real" breakdown.  It's a really cool bit.  I love doing it.   I was also too drunk and out of practice to pull it off and it was, pretty much, the worst possible choice of gear to do.  Even sober enough and match fit enough that show wasn't the place for it.  Medication, alcohol and performance anxiety are a heady mix and it all played out badly.
I'm so glad I ran into Terry on that walk.  That shit was building up in my head.  Terribly.  The rest of the walk our dogs sniffed and peed and zigzagged, Terry and I talked and, fuck I've got some awesome mates.
If you have shit running around your head I can highly recommend taking your dog out for a walk, if you have the fortune to have one, or just going for a wonder to clear your head, I do it all the time, but few walks have felt as good as that one yesterday.
9/10. A feel better tour de force