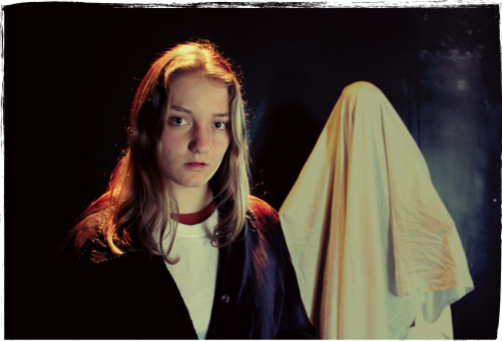 Review: Why are we still here? Written and presented by Tempest Theatre Company

The Random Stage at BATS, 5 February 2019.

I saw Why are we still here? on its opening night, kicking off the 6 Degrees Festival at BATS. The festival season features six works led and developed by students on Victoria University's MFA programme and runs from 5-16 February.

This one, a devised piece, led by director Emma Maguire, had an immediacy and energy that I really enjoyed, based on some strong performances from the cast of six, who were presumably involved in its creation.

It's "not quite a ghost story" and begins with the sound of a storm then the strike of a cricket bat thrown flat on the stage, as a group of four young women break into an abandoned theatre to seek shelter and escape from the (presumably dystopian and hostile) life outside.
Arriving in uncertainty, exhausted and afraid, their leader Benny (Beth Jones) gets them to take off wet clothes and rest, fierce and determined to ensure their survival by sheer force of her will.

As the four gradually sleep, two others appear: it's clear from the outset that they are ghosts, haunting companions but not friends, who are curious and conflicted about the new arrivals, wanting them gone, and to stay at the same time.

Wyn (Tara Weston-Webb) is clearly lonely and grieving, while Alex's (Logan McGregor) sly observations makes his "life" bearable using his wit. I found Weston-Webb's performance unaffected and powerful, and McGregor's witty and entertaining (as if British entertainers Chatty Man Alan Carr and Catherine Tate had an offspring who ended up in the Hunger Games ).

Both are condemned to haunt the theatre, and have found themselves a barely bearable existence with each other: companions but tired of each other's company.

The story progresses with interaction of ghosts and humans, and we get something of how the characters ended up there, with storytelling supported by dance and movement. .

Overall I enjoyed the lack of artifice from this cast: no mugging or self-conscious characterisation. By and large they embodied their characters – and I'd like to see more of their work.
One thing that struck me early on was how effective the costumes, make-up and lighting were to create that sense of desperation: initially with the four urchins, and even more so when the ghosts arrived in casual but floaty white, complete with death scars (the prosthetic make-up was understated but effective.)

At the beginning there were slight issues with sound drowning out dialogue, and a muffled track to the first movement/story piece, but it quickly found a better balance.

To be honest, I didn't quite understand the universe, or the layers of metaphors about grief that I suspect the cast were reaching for, but I enjoyed the show nonetheless, without being profoundly moved. I'd like to see more devised work from them. .

BATS Theatre 5-16th February 2019

Thurs 7, Fri 8, Sat 9 February
$18 adults, $14 concession

6 Degrees Festival Season Pass to see 3 shows for just $36.