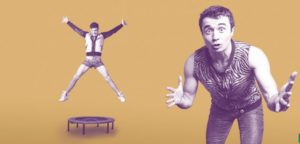 I cannot emphasise enough how the marketing for Lords of Strut does not capture what you will see. Based off their promo material and the photo to the right I assumed I'd be seeing carnie folk doing acrobatics, maybe some juggling. You know the sort of thing. It is nothing like that. It's an hour of mind-bending, inexplicable hilarity with very few out and out jokes but so much laughter. And bizarreness.
I would love to tell you the parts that were just so bizarre to give you a flavour of it but to do so would be to ruin some of the magic.
Both of the performers, brothers Famous Seamus and Seantastic can dance, they can move, they can joke and they know what's funny. This is easily the most creative comedy festival I've been to in terms of the breadth of shows and Lords of Strut are right at the far end of the creative spectrum leaving everything else for dust in terms of imagination.
Not every piece of patter, not every sight gag not every bit of surrealism quite hits the mark but there is enough happening at a frantic pace that even if something doesn't completely land there's something around the corner that does. Continuing my subversion of New Zealanders are participants in shows, the people involved from the audience do so willingly and often add to the show. There's also a healthy dollop of 80s music because everyone loves that.
I think for large parts of the show, we the audience were laughing without even knowing why. Some of the humour is rooted in that delightful Irish stereotype of the simpleton (think Father Dougal) but to pull that off convincingly requires a giant brain.
My biggest complaint was that I'm not sure they were placed in the right venue. The Fringe Bar is a fantastic venue for comedy but when your show is as explosive and as large as the Lords of Strut a bigger space might be preferable. That said, they never allowed the limitations of the space to limit the fun we had.
May 3-7, Fringe Bar, 8.30pm
TICKET PRICES
Full Price $25.00
Concession $20.00
Group 6+ $21.00
Cheap Wednesday $20.00
*service fee may apply