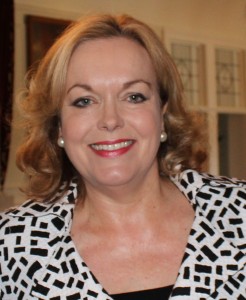 We're a big fan of Minister Collins. She was the first MP to support us. She wrote the first MP's guest post for us (get one, get them all!) and though we don't agree with her politically, she's always been ready to engage online. After a bit of hectoring from me she agreed to sit down and have lunch and a chat.
Full disclosure: Minister Collins bought me lunch.
She is also a divisive figure. There's no point re-canvassing that point. She has a substantial Twitter following and she regularly engages with people, sometimes it seems aggressively. Her very capable press secretary said that it's great being Minister Collins' press secretary because the Minister has such firm opinions. She's certainly not afraid to voice them and she is usually prepared to make comment.
The press sec got her job because she'd written a piece as a student on "her local MP". Her lecturer had told her she should send the Minister a copy. She'd put a post-it note on the cover saying "if there's ever a job with you…let me know", then she'd up and left NZ.
While overseas, her mother had rung her saying that the Papakura electorate office was calling her. Minister Collins had seen her piece and wanted to hire her. Minister Collins is loyal. That was apparent in this exchange, and in the conversation I had with her.
She also blocks people a lot on Twitter. When I put it to the Twitterverse that I would be interviewing her, I asked for some questions. David Slack said:
@RuminatorNZ I would like to know:
-who paid for the dinner
-why a staff member was at the private dinner
-why she unfollowed me on Twitter

— David Slack (@DavidSlack) March 12, 2014
Unfortunately I didn't get to ask her about the infamous dinner, but I did ask her why she'd blocked David.
She didn't realise she had.
I also said that David Fisher often mentioned that he was blocked by her. There was a reason for blocking David she said. He used a photo of her for an article that was taken at her mother-in-law's funeral. She said she found that sort of behaviour "unforgivable", and that David had never "had the courage to ring and apologise". Other journalists had misquoted her and had apologised for it, but  David Fisher had never called to apologise for the photo.
Over lunch, Minister Collins never told me to call her Judith, so I won't . She said that she hopes she's never caused anyone hurt on Twitter and that most people realise her "nastiness" is largely meant in jest. She makes jokes, and laughs. But you can tell that recent events have had an impact on her.
When I sat down to lunch I was nervous. Before the events of the last few days I thought the Minister and I could have a nice chat, I would learn a few things about her and then I could write a piece about what makes her tick. However events in China meant I had to ask questions about it. I wouldn't have any integrity if I didn't. When we got to our table I told her that it  would be remiss of me not to ask about China.
"Righto" she said "away you go".
I said I didn't want an adversarial lunch; this wasn't Frost/Nixon.
"Can I be Frost?" she asked.
I asked her why she even went to China as it's not really in her portfolio. She was invited there by China's Ministry of Justice and spent three days in meetings about the justice portfolio ["I didn't get any time for shopping!"]. I wondered  if she raised China's human rights' record. I gave her an out though, I said it would be almost naive politically to do so as diplomacy is a funny game.
"Yes it is, you can't wag a finger at another country. You can't grandstand no matter who you are. That achieves nothing but resentment."
She said that she made speeches that talked about how the situation was so great in New Zealand. That we have judges who sometimes find against the New Zealand Government, and that we have the Official Information Act "which is annoying but so important". That's how you do it she said. You don't directly say 'China your human rights is bad', but instead you talk about how good it is here.
We got to talking about her apology for her alleged conflict of interest. I replayed for her what she'd said:
"If anyone feels that I've done something wrong, then I would apologise for that…"
I said that's not really an apology is it. You're putting the burden onto the recipient of the apology. Had she done anything wrong?
"Absolutely".
She'd let herself down, and she'd let her team down. She never mentioned letting the country down though. Personally I think this is a strange issue. Unless you're directly involved in the milk business I don't see how this would wind you up. But partisan is, as partisan does, so people are all having a meltdown about it. To an extent, Minister Collins agrees saying that she thinks the vast majority of people realise that the extra anger is coming from her "political opponents".
There's possibly a certain lack of self-awareness there. Yes it might be a Wellington political issue, but it's still brought her party into disrepute. Some have asked why she wasn't disciplined more. There's rumour and conjecture about Minister Collins knowing where the bodies are buried, and some have alluded to other MPs having behaved in similar ways. I asked her if she thought what she'd done was comparable to Nick Smith, he resigned his portfolios for a conflict of interest. She didn't think they were comparable because there were other issues in the Nick Smith scenario. I didn't push to find out what they were. You can tell if you're going to get an answer on something, and this wasn't one of those times.
We talked about Shane Jones. The Minister seems to have a soft spot for Shane, speaking highly of him. She'd described him in an earlier guest post she'd written for the Ruminator as "the person you'd like to have a drink with". She'd also commented today that Shane had experienced his issues but people were still talking him up as a possible leader. This is obviously an allusion to her own leadership aspirations which aren't really a secret to anyone. We talked about an MP's inability to talk about aspirations like that publicly, and she said that all she could say is that "she's doing the best job as an MP that she can".
We talked about the issues Shane experienced. She said that she didn't take any shots at him, even over the "porn issue". I asked if the immigration issue was one of those black marks against him. Yes, it was. It didn't "look great". Bill Liu was escaping the Chinese Government and NZ government officials had said he shouldn't become a citizen.
To be consistent then, surely she saw today's news that Chris Tremain and Maurice Williamson had done something similar as a black mark against them? No, not quite apparently. There were differences. Donghua Liu wasn't running away from justice.
But she'd said that one of the black marks against Shane was that the New Zealand officials had been against Bill Liu getting citizenship. Just like Donghua Liu. Suddenly that was less important. "In 10% of cases the Department's recommendation is over-turned".
That was the end of that matter.
We got to talking about sexism. Was Parliament a sexist place? "Yes of course it's sexist. It represents society." She went on to explain that there was sexism and racism throughout society and so of course there would be in Parliament as well. I asked her if the gender pay gap existed. She said that it did and she'd experienced it first hand when she was a lawyer. I wanted to know if it was a problem that should be addressed by her Government. I also pointed out that her Government had disbanded the committee that looked into pay equity. She had no further comment on that particular matter but she said that "women need to be more assertive and stick together. They need to stick together" she repeated.
She's very well known for her close ties to Whale Oil. Cam's blog does a regular piece called "Silly First Name Feature". In this section he ridicules someone for having a ridiculous name who has died recently . It's less classy than I made it sound. Surely Minister Collins doesn't endorse that?
"I don't really endorse blogs" she said. Damn. But she said that "Whale…Cam Slater is a personal friend. I don't endorse everything he says and I tell him that. But I don't dump on my friends when things go wrong."
Finally we talked a little of her personal life. She's pretty guarded when it comes to this topic so I didn't want to push. I said that recently John Key and Bronagh had done an "intimate" interview with a Women's Magazine. That's not really her thing. I asked her if she would be prepared to do such a thing if it came with the package of higher honours.
She likes to keep her private life private. Some MPs are more comfortable than others in sharing their families with the public. She is not one. She has a son in his early twenties and she doesn't want him in photos. He doesn't want to be harassed. He doesn't want to be known as Judith Collins' son. "I want to be normal" she bemoaned, "MPs should try to be normal."
While we were talking someone rang her on her phone and had a quiet word with her. "Thank you very much" she kept saying. "Thank you". She got off the phone, noticeably moved. "That was one of my fans".
What did she want her legacy to be?
Hopefully it was a long way away. But she most wanted it to be that she brought issues and common sense to the justice portfolio. She was immensely proud that Corrections had turned from a problematic portfolio into a good news portfolio.
What was my biggest takeaway from this lunch? Minister Collins is a human being. I think we all forget that people are people. When there's a scandal or an online pile-on we can get nasty. And we can get vitriolic. But at the end of it all everyone has feelings. I think Minister Collins is a decent human being. I don't agree with her politics, I think she's done a dumb thing with the China trip. But she's also a decent person who wants to leave a legacy of hard work.
Judith Collins with Janet Napolitano, courtesy of The US Embassy 
If you want to support the Ruminator, please consider making a donation via Givealittle