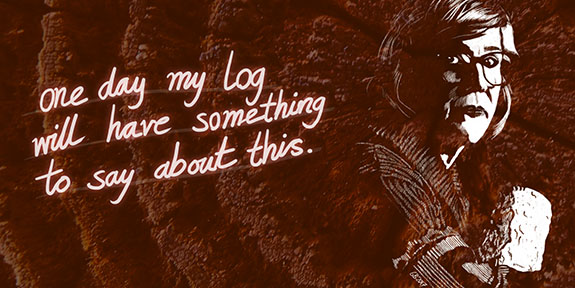 Have you jumped on the Twin Peaks rewatch train yet? Check the schedule at the bottom of this post – episodes one and two are on the menu this week!
That breathtaking image above is by Grant Buist (@fitz_bunny on Twitter), creator of legendary NZ comic strips Brunswick and the ongoing Jitterati. See below the essay for his tweet-by-tweet journey through episodes one and two!
Below: a writeup of the first episode of the regular series, which follows on from the pilot episode, so it's sort of episode two ok?? This is by the marvellous Jenni Sands (@jennitalula on Twitter), who is currently reviewing the entire Empire Top 500 Movies list over on her blog. The format of this post is the same as the format of all those posts – movie lovers are warmly encouraged to go dive into the big pile of reviews there!
Twin Peaks episode one: Traces to Nowhere
Written by David Lynch and Mark Frost
The music of the opening credits takes me right back. I was really too young to watch Twin Peaks when it came out, but I remember it being the big thing. I remember being in the back of the car and driving past the infamous billboard with the plastic wrapped mannequin. I remember there being lots of talk about it, some of the kids in my class watched, but we were what, eleven? Twelve? My mother and my sister were devoted watchers. As I recall they recorded the episodes on video as they came out so they could watch them the next day. I would sometimes see snatches of it. Not enough to really comprehend what was going on, but enough for the music to be ingrained in my brain and to know it was weird and creepy.
I watched Twin Peaks the first time in my twenties, when I had begun to be interested in movies as an art form. It's so deliciously weird, with the solid backbone of having a great mystery at its heart.
The first episode is important because we get a lot of characters fleshed out. We learn who each of them is in character scenes (Bobby being a bit of a popular asshat at school, Dale and his calm in the face of everything that happens, Donna's guilt over finding joy and love). We get a lot of threads appearing – people who were with Laura the night before she died, who is sleeping with who? Leo and Shelley's trainwreck of a marriage. Nothing is answered in this episode, but that doesn't make it unsatisfying. That's the purpose of a first episode: to build excitement and set the audience to wondering. Biggest question on my mind: why was there a fish in the percolator?
I see the influences of this show in other shows I've loved, True Blood, Veronica Mars and a quite direct line to season one of True Detective. This show has had a cultural impact that I don't think I can overstate. Plus I think Shelley may have been the inspiration for the movie Waitress, now that I think of it.
There's some clever writing with the characters, at first they appear to be tropes – like Audrey is the nymphette: we see her trading her saddle shoes (innocence) for red heels (provocation) at school, this is witnessed by Donna. But instead of as we expect, Donna the good girl judging Audrey, they both just laugh about it. Later we see that Audrey isn't just a nymphette she's a force of destruction and sharp as a knife. I love her, what a great character.
Does it make me love the people? Oh yes. Very much so. Dale with his quirky morning habit of hanging upside down and recording his thoughts to a woman called Diane. Bobby with his Jordan Catalano vibe, Audrey and her sparkling eyes and bright smile. This show is full of characters which are fascinating and lovable.
Bechdel test: Yes, a few times over, but perhaps the best scene which both breaks your heart and passes the Bechdel test is when Sarah Palmer and Donna Hayward talk. They console each other a little, and then Sarah breaks down badly, confusing Donna for Laura and then seeing Bob.
Best line: "You know, this is – excuse me – a damn fine cup of coffee. I've had I can't tell you how many cups of coffee in my life and this, this is one of the best.."
State of Mind: Right, time to watch more of this show.
Jenni Sands lives in Auckland, New Zealand with a fat cat and a lovely fiancee. Although their main passion is writing, Jenni is also fond of movies, comics, blank notebooks and sewing patchwork quilts. Jenni's work has been published in Enamel magazine, nanoism.net and in the Baby Teeth horror anthology (Paper Road Press, 2012). Jenni's also self published several roleplaying games through RPGNow and is currently blogging through a list of the '500 Greatest Movies of all Time'.
—-
Enjoy Grant Buist's livetweet of the episodes: (click on a tweet and scroll down to read the whole sequence):
Episode One. Also known as Episode 1.02. Also known as 'Traces to Nowhere'. Not at all confusing. #TwinPeaksRewatch

— Fitz Bunny ⭐️ (@Fitz_Bunny) January 22, 2017
Episode Two, aka Episode 1.03, aka 'Zen, or the Skill to Catch a Killer'. Thanks, German TV. #TwinPeaksRewatch

— Fitz Bunny ⭐️ (@Fitz_Bunny) January 22, 2017
—-
Listings for the original NZ screenings, courtesy of ace TV researcher Paul Scoones:
(See Paul's full post for more information on Twin Peaks in New Zealand.)
Episode 5: 'Cooper's Dreams'
NZ: 30 April 1991; Tuesday 8:30-9:30 (US: 10 May 1990)
Cooper and Truman meet the Log Lady and find a gruesome crime scene in the woods. James and Donna take Madeline Ferguson into their confidence.
Episode 6: 'Realization Time'
NZ: 7 May 1991; Tuesday 8:30-9:30 (US: 17 May 1990)
Agent Cooper and Ed pay a special visit to One-Eyed Jack's while Audrey Horne works undercover as a host there.
—-
Rewatch Schedule:
Join the hashtag #TwinPeaksRewatch
15 Jan: Pilot: Starting at the start
22 Jan: Eps 1 and 2: Damn fine cup of coffee
27 Jan: Eps 3 and 4: Laughing at prayers
5 Feb: Eps 5 and 6: Invitation to Love
12 Feb: Ep 7*: Biting the bullet
19 Feb: Ep 8: We want to help you
26 Feb: Eps 9 and 10: Bury her deep enough
5 Mar: Eps 11 and 12: Sometimes the Can-Do Girls Can't
12 Mar: Eps 13 and 14
19 Mar: Eps 15 and 16
26 Mar: Eps 17 and 18
2 Apr: Eps 19 and 20
9 Apr: Eps 21 and 22
16 Apr: Eps 23 and 24
23 Apr: Eps 25 and 26
30 Apr: Eps 27 and 28
7 May: Ep 29**
14 May: Fire Walk With Me***
21 May: NEW TWIN PEAKS!
* optional: The Secret Diary of Laura Palmer and The Autobiography of Dale Cooper books
** optional: The Secret History of Twin Peaks book
*** optional: The Missing Pieces