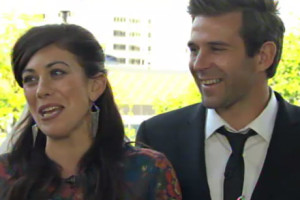 Remind me never to play poker. With a face like mine there's no hope in hell I'd ever win – one glance and you'd know if my hand was a winner or a loser. Open as a book is a cliché description that fits me perfectly. Sadly though, it meant there was no way I could hide my disappointment on Wednesday night following the auction of our house on The Block. On live television there's simply no opportunity to compose yourself, to see the bigger picture or just take a moment, take a breath and suck it up.
Funnily enough lots of people are saying I looked like I'd been sucking lemons, which is a hilarious description given my face was contorting in all sorts of ways to stop myself from crying. And for once in my life, it actually worked. Although it must have looked like a machine had taken over my face, I didn't shed a single tear until those credits rolled. And for me that was a Herculean effort.
I can't convey how hugely I admire Rachel and Tyson and Ginny and Rhys from The Block Season 1 who coped so well when they walked away with nothing and $11,000 respectively. That they kept their calm and cool reflects so well on them as people and I truly wish I had their composure. In comparison Tom and I are so much better off and we count ourselves incredibly fortunate to have got $25,000.
I think this is just a story about our own expectations and managing them. Unfortunately for Tom and I our natural optimism did us a disservice when we walked into that auction room. Winning the most room challenges combined with some incredibly positive comments from our real estate agent meant we thought we were in with a good chance for the win – and as much as we tried to quash our quiet hopes, they were still sitting there, in our hearts, come auction time.
We walked away with $25,000 which is a lot more than a lot of other New Zealand families have. It's a huge step forwards for us in our dreams of owning our own home and having a family, and while the new 20% deposit rules will slow us down, there's not a lot we can't do when we set our minds to it! We proved that time and time again on The Block and will continue striving to do so in life. To say that we are grateful for the $25,000 we made on The Block is an understatement – we are absolutely stoked! It would take us a long time to save so much and we will certainly put it in a safe place so we can save a little more and buy our first home.
When Alice and Caleb walked away with $261,000 I think we all went into shock – them included. What an amount! What a win! And how amazing for them!  Alice and Caleb have become best friends of ours through this experience and we are ecstatic for them. We know how hard they worked for that, how much research and planning they'd put into their house, and we were constantly amazed by the rooms they created. The fact that they went through the show coming consistently second, and never, ever let their permanent positivity waiver was amazing and I have so many lessons to learn from this wonderful couple.
A special thing that has come out of this is the amount of support we have received from other couples who are trying to have a family and have not yet been successful. Tom and I, while always mentioning our desire to have a family on the show would prefer to keep the medical reasons to ourselves and so while we are grateful for the offers of funding and charity, there are plenty of public options still available to us that we will head down before we go any further. We'd far prefer to see any money go towards a registered charity that supports people who really need the help. Tom and I have good jobs and we just won $25,000, so I don't think we are in any position to be taking any additional financial support. Emotional support however is more than welcome!
We have so much to look forward to and we are so grateful to have had the chance to renovate House 4 on The Block. Our wonderful buyer told us she fell in love with the house the minute she stepped inside, and wouldn't change a thing about it which is such a special thing to know. Our team of tradies have become close friends and we know that Don Walker Building and his subbies have got so much out of the experience – not to mention new business. And finally we've walked away with a new set of skills to one day renovate our own home and 6 new friends who will be part of our lives for years to come. We are so grateful to them for helping us get through the crazy, topsy-turvy life challenge that was The Block NZ.
To anyone who thought  we seemed ungrateful or ungracious on the night, I sincerely apologise and I ask you to please take a moment to think of what it's like to face disappointment on live television – we are not actors, just a couple with hopes and dreams like everyone out there.
And please remind me again, never to play poker because I'll never win – but I'm still confident of finding our own 'Full House' and for now I'm delighted to be another huge step closer to achieving that goal.
If you want to support the Ruminator, please consider making a donation via Givealittle.