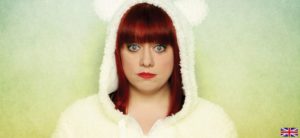 Angela Barnes has, in her promo material, the sentence "The best mainstream female comedian I've seen since Sarah Millican" and the word mainstream makes me pause.
What is mainstream? Would you use it as an advertisement for your show? If you're considering Angela's show and looking at mainstream in the pejorative, then don't. Because Angela's show, despite never really pushing the barrow in terms of material subject-matter is an excellent, well performed and at times very funny show.
She hobbles on stage, a victim of an injury up in Auckland, so we're treated to a show from Angela seated. She makes it very clear that she's a self-deprecating comic and we're not to feel sorry for her. We're to laugh *with* her which is the key emotive take-away from her show.
The material subject matter isn't new. It's the sort of fare you'd see in a lot of comedy shows but it's delivered in a Gatling-gun style way, coming at you at a million miles an hour and if you didn't find one bit funny, that's ok because here comes another bit. It really feels like a catch-up with one of your most likable friends. One you haven't seen in ages and so has heaps to share with you.
Then, suddenly out of nowhere, the material takes a darker turn. And ironically this is where Angela the comedian shines brightest. When she starts exploring some of her underlying problems and how they manifest themselves she gets the biggest laughs of the night. Suddenly the show has grown and developed in front of our eyes and from there it's a tour de force of self-deprecation, meaningful personal insights and damn funny gags.
The truth is beautiful. And hilarious.
Angela Barnes in Come As You Are
May 10-14, 7pm, VK's Comedy and Jazz Bare
TICKET PRICES
Tuesday & Wednesday $22.00
Thursday – Saturday $26.00
*service fee may apply