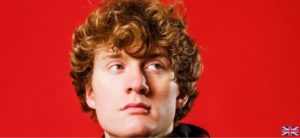 James Acaster is going to be a very expensive comic to see next time he comes back to New Zealand. I fully expect him to be at the Opera House charging like $50 to see him. And he'd be worth it. Because this was one of the best comedy festival shows I've had the fortune of seeing.
The basic premise of James' show is that he'd love to reset his life and start again. He runs through a bunch of reasons why he'd like that. But he also runs through a bunch of reasons why we, the audience should also want it.
He doesn't start this way. In the beginning he creates a likable persona by complimenting us. It's transparently disingenuous but still a brilliant opening. Then suddenly he switches. And he's a dick. But we love him. And this is a hard act to pull off. There are not many comics who can convincingly point out our flaws and still have us laugh at all of it. And we did. We laughed at every single bit.
He's a very brave comic, taking on the likable unlikable, but also there's surrealism thrown around or good measure. Another very difficult genre to pull off convincingly. Especially within the confines of a straight set of stories.
I've always said that I want my comedy to either be something completely different or a new take on something old. James manages both. Amazingly. His deconstruction of the New Zealander is one of the best bits of comedy I've ever seen, and while it sounds cliche and hack he does it in a way that I've never seen. And he's dead right.
His scripting is tight. He weaves materials backwards and forwards with call-backs and prefaces of things to come. It's a dizzying display of brilliance that has me loathe to write notes in case I miss the next hilarious bit.
He plays with words, rolling them around his mouth and extracting comedy from places he has no right to, repeating words like a Family Guy bit but actually clever. And funny.
There's some improvised crowd-banter which, in his own words was "electric" and despite his positive commentary of his own performance while tearing us down we still love him. We want him to keep going and continue to amuse us.
He shuffles around the stage on a stage that is only a microphone stand and a seat but given his complete and utter command of himself and his space around becomes a fully formed set.
Speaking to a random punter after the show he said he went into this show with very high expectations but that James more than matched them. Which is how I feel.
He's all but sold-out. He's added an extra show at 5.30pm on Friday and you would be foolish not to go. It's an amazing, wonderful show. Probably the best I've ever seen.
James Acaster in Reset – world premiere
May 10-14, 8.30pm (+ 5.30pm on Friday, May 12), San Fran
TICKET PRICES
Tuesday & Wednesday $22.00
Thursday – Saturday $26.00
*service fee may apply