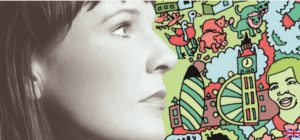 Write what you know. That's what they tell you when you start doing comedy. Beth Vyse got breast cancer, so she's written about that. And it's funny as hell.The show is an incredible blend of jokes, surrealism, audience participation, ping pong balls and squirt guns. There's also some frotting.
Beth's opening is reminiscent of last year's Adrienne Truscott show which focused on her vagina, but from there it goes a very different direction. Beth's a classically trained actor and this shines through. You're not just seeing a comedian on stage, you're seeing a performer who is utilising every tool she has to extract laughs from the audience. Her face is a magnificent performer of its own.
I mentioned in my review of Marcel Lucont that we're used to setup:punch style comedy here in New Zealand but I'm seeing a trend emerge from international acts that this is so last year and we're seeing some really exciting creative forms of comedic shows. Funny as Cancer fits that perfectly.
In a testament to how immersive her performance is, Beth is able to extract some unbelievably extroverted performances out of the audience members who take past. It would seem that the days of the reticent New Zealander are gone.
It's emotionally gripping. Like really emotionally gripping. Some people in the audience were moved to tears at parts, but this never feels like a sentimental tool, just a natural extension of what the show is about. But just as quickly as a tear may form from emotion, Beth is back making us laugh our asses off through a facial expression, or Malcolm Hardee type piece of surrealism.
The subject may put people off, but it shouldn't. A mantra I've long lived by is if you don't laugh, you'll cry; and this show is the literal embodiment of that. Fortunately it's far more laughter than crying.
It's the best show of the festival so far for me. A magnificent piece of comedic blending, covering all styles but still feeling totally coherent.
May 3-7, 7pm at the Fringe Bar
TICKET PRICES
Full Price $22.00
Concession $19.00
Group 6+ $19.00
Cheap Wednesday $17.60