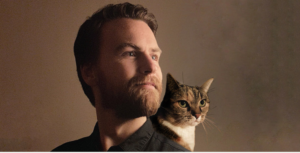 I saw Brendon Green in the 2014 Comedy Festival in Some More Mr Nice Guy, and it was one of the most well written shows I had ever seen. Brendon danced us backwards and forwards, weaving call-backs and flash-forwards with a deftness far exceeding his age as a comic. Had it not been for the erratic genius of Guy Montgomery then I think Brendon would have won the Billy T Award that year.
This year I was very much looking forward to seeing Brendon again, and while it didn't quite reach the dizzying brilliance of Some More Mr Nice Guy it was still an excellent hour, showcasing Brendon's skill as a story-teller.
The concept is imaginative. Brendon is a story teller, and he sits at home, alone save for his girlfriend's cat and so practices his story telling on the cat. And tonight we shall be her cat as he tells us the stories that finally won Tilly over to become his best friend.
This narrative allows Brendon to segue between standard comedy with a number of set-up / punch gags and then flow into a number of stories. It's the stories where Brendon shines. Before the show, I was talking to someone I knew in the audience and I told her how much I was looking forward to this show because I rated Brendon as one of the strongest story-telling comics in New Zealand. He didn't make me a liar. Cheers.
The stories were painted with evocative words, creating imagery in our mind as he poetically wove his way around the English language to describe mundane, not so mundane, and outlandish events in his life. It's worth it just to hear and see Brendon's words come to life.
Some under-rehearsal meant that he stumbled over his words in some instances tonight, disrupting the flow of his stories a wee bit; but it's opening night so you can allow for this.
Where Brendon perhaps came up a bit short was in his traditional stand-up fare. Some of his shorter gags were either well-worn and cliched or just not funny enough to stand out on their own. I admire Brendon for mixing styles within his show but I felt it may have come to his detriment.
Overall, this is a really good show. I took my wife, my friend and my mother-in-law and everyone enjoyed it; including me – and I'm a massive cynic.
Show details:
Wellington
BATS Theatre, 2-6 May, 6:30pm – 7:30pm
Tuesday & Wednesday Full Price $18
Tuesday & Wednesday Concession $14
Tuesday & Wednesday Group 6+ $13
Thursday – Saturday Full Price $20
Thursday – Saturday Concession $15
Thursday – Saturday Group 6+ $14
Auckland
Backbeat Bar, 16-20 May, 8:30pm – 9:30pm
Full Price $20
Concession $17
Group 5+ $17