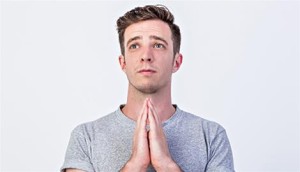 I don't laugh at stand-up comedy a whole lot any more. I have performed it a bit. I've seen it an awful lot more. I've watched it on TV. I've reviewed it. All in all it's become more of an analytical experience than an enjoyment thing. So I'll often appreciate a joke, I'll find it funny; but I won't laugh. However Eli Matthewson made me laugh. Many times over. Which is the primary job of a stand up comic. So good job Eli.
I'd never seen Eli before. I'd heard the name. And then he pro-actively emailed me to come review his show. I asked around. He's got a good reputation. He was recommended. So I went. And I'm very glad I did.
His show 'Faith' is the typical young-comic-finding-themself show that all young comics seem to go through, it's the puberty of festival shows; but Eli has a couple of themes that make his stand-out from the norm, his family's [sometimes weird] Christian background, and his own development into a gay man [semi] comfortable in his own skin. He milks both of these premises brilliantly.
His style of delivery is frenetic. His attempts to make you laugh-per-minute must be right up there because he keeps firing off at the crowd, bam bam bam. It's a shotgun approach at times – fire off as much as possible and see what hits – but more often than not he hits his marks wonderfully. He's also adorably likeable. In fact as soon as the show finished, the woman sitting next to me sighed and said "oh he's so adorable". Which is admirable, because he spends a lot of the show talking about how awesome he is – no typical Kiwi self-deprecation here. It's never arrogant, it's cheeky. And the fact that he makes you like him shows a really deft touch at audience manipulation.
The material never gets too cerebral, nothing too intelligent for the audience to stop and ponder, but this is not a criticism, because I think it takes a real level of intelligence to keep that comedy interesting, entertaining and funny for 60 minutes. Eli does it.
He also eschews the traditional set-up -> punch for more 'shit that Eli finds funny' and shares that with the audience. Occasionally he might not deliver on what is clearly supposed to be a funny line and a little bit of judicious editing would really tighten up this show. Also maybe testing some of his ideas against others pre-show would help, but these are minor quibbles for what is overall a very funny show. Even when the jokes don't land, he doesn't stop and dwell on it, he just moves on, which is always my preferred approach.
I understand he has a background in improv, and he tells us that he spent some time at drama school; both of these experiences have helped him immensely. A lot of his material appears to be just occurring to him on the fly, and while I'm sure that's not the case it's very hard work presenting that.
The show goes through a roller-coaster of thoughts, there's existentialism, a look at white-hetero-male-privilege followed by some damning critique of the tumblr's generation overly-liberalness and then it finishes when Eli reveals that he also possesses a beautiful singing voice. Talented fucker.
He looks like he's having fun up there. Which in turn means the audience has more fun. It's a very fun show. It's a very funny show. It's an excellent show and I recommend you go along, on Saturday, apparently.
Show details:
Wellington
Bats Theatre, 29 April – 2 May, 9.00pm
Adults: $18
Concession: $14
Auckland
The Basement Studio, 12 May – 16 May, 8.45pm
Adults: $18
Concession: $15