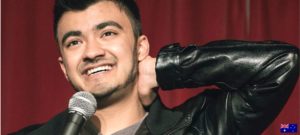 "Don't let his internet celebrity deceive" says part of Neel's promo material, and I have to confess I didn't actually know who Neel was before I went and saw his show. A bit of research showed that he indeed does have quite the footprint online. He has nearly half a million Facebook likes, his YouTube channel has over 275,000 subscribers, nearly 90,000 on Instagram and nearly 9,000 Twitter followers.
So yeah, Internet celebrity indeed.
He's a 22 year old Australian of Indian heritage, a topic he mines over the course of his one hour show: Neel before me. And if the sexual connotation to his show's title isn't apparent then don't worry, you'll be bashed over the head with smutty jokes for most of the show.
We're straight into material that you'd expect from a 22 year old, weed smoking, sex: struggles with and successes in. It's a fairly standard opening for a comic and one that doesn't really stretch the imagination. However his delivery is great with lovely timing and a wonderful co-star in his dynamic facial expressions.
There are some lovely self-deprecating bits that brings the audience onside before he lets us go again with some ill-thought out material around gender and offensiveness. These are tough subjects for any comic, and while Neel does have some nice flourishes in this space he's clearly got a few years to go before he can master such delicate material.
There were some attempts at crowd-banter that didn't really add anything to the show and a lot of the rhythm was broken up by some script problems which I'm sure will be solved as the season goes on.
Where Neel did shine was where he challenged perceptions in a different way. The voice of the Indian is not a common one in comedy and Neel, while doing one convenience store joke, does get through the usual cliches we might associate with Indians and into some really well thought-out and funny material. There were big laughs from a crowd really willing to give him a fair shot.
Unfortunately these bits of near-brilliance were couched between some juvenile comedy and parts that bordered on the hack (drop the 72 virgins joke, it's been done for about the last 15 years).
This is not to say Neel is a bad comedian, there is an absolute tonne of potential there and I'm sure as he grows and matures he will become a great comedian, he just has a wee way to go before he gets there.
Neel Kolhatkar in Neel Before Me
May 3-7, 7pm VK's Comedy and Blues Bar
TICKET PRICES
Full Price $27.90
Concession $22.90
Group 6+ $22.90
Cheap Wednesday $22.30
*service fee may apply