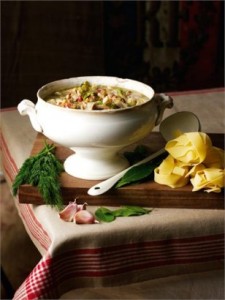 An alcoholic's twist on Coq Au Vin
Coq Au Riesling
Original recipe by Nigella Lawson
Found in: Nigella Express
Sourcing ingredients: slightly harder than it should have been. In Wellington, I would have gone to one of many specialty food stores, but I was on location where specialty food stores do not exist.
Total preparation and cooking time: 1 hour (or thereabouts)
Serves: 6
Difficulty: Easy
I love my mum, she's literally the best woman I know. So when she asked me to come to her house on mother's day and cook her a "Nigella Meal", how could I resist? I wanted to create something spectacular for my mum, but time was short. Being a Mrs, I needed to share my person with Husband's family that day too. Thankfully The Domestic Goddess knows my life is busy, so created Coq Au Riesling. Bless you, Domestic Goddess.
After spending a beautiful long lunch with Husband's family in Martinborough (a boutique wine region just over an hour's drive from Wellington), I went to the supermarket in mum's home town to collect the ingredients. Here's where things went a bit pear shaped. Where mum lives, they don't sell things like oyster mushrooms, bacon lardons and garlic infused olive oil. I had to get creative. Regular button mushrooms would do, as would streaky bacon. As for garlic infused olive oil – surely I could crush a clove of garlic and mix it through some olive oil? Problems solved.
At mum's place, I spent a lot of time trying to shoo her out of the kitchen. After some negotiation, I agreed she could make Nigella's Instant Chocolate Mousse for dessert, because I had made it before. What's that, you ask? Instant Chocolate Mousse? That sounds amazing, where can I find the review? Right here my friend, right here.
Nigella says to heat the oil in a casserole dish or large wide pan. After pulling out every casserole dish my mum owns, the only thing large enough to hold all the ingredients was her electric frying pan. So I used that. I turned the temperature to between 6 and 7 (the hottest temperature was 10) and added the garlic infused olive oil and bacon. It took about seven minutes for the bacon to crisp, at which point I added the leek to soften.
I added the chicken thighs, bay leaves and mushrooms. Nigella says that the mushrooms should be torn. Because I had button mushrooms and not oyster mushrooms, tearing was not really an option. I had to use a knife and slice them up like regular people. Ugh.
After everything was sizzling away, I poured in ALL OF THE WINE. I've never added an entire bottle of wine to anything other than myself before, so this was pretty exciting for me.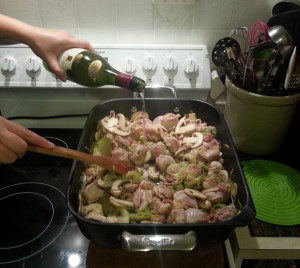 I added a sprinkling of salt and pepper and stirred intermittently. Once it was brought to the boil, I turned it down a fraction and set the timer for 40 minutes. Nigella says to simmer gently for 30-40 minutes, but Husband has made me paranoid about undercooking chicken.
After 38 minutes, I stirred through the cream (see note in Instant Chocolate Mousse about double cream and New Zealand). That was it.
I was happy just to serve it up with the fresh dill straight from the pan, but Husband insisted we recreate the same image Nigella uses of her Coq Au Riesling (not a euphemism). So here it is.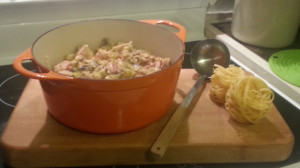 The end result:
If someone said to me that I no longer needed to use stock and I could just use wine instead, I would call them crazy, take their wine and drink it. Well, at least I would have BCAR (Before Coq Au Riesling). As Nigella suggested, I served it with a mountain of buttered noodles (did you know buttered noodles is just cooked noodles with a dollop of butter mixed through? Thanks internet!). The chicken was succulent and fell apart in my mouth. The flavour was a wonderful blend of both sweet and savoury. It was delicious. I can't stress this enough. Make it. Immediately. Halve the recipe if you have to. Or don't, and put the leftovers in the fridge. You'll eat them I swear. I may have found my new favourite chicken dish, but I think the best part about this recipe was that my mum loved it. Happy mother's day mum, I love you X