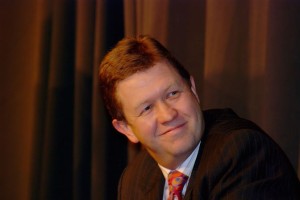 Disclaimer: In no way do we endorse any of the things said here. Once again it's just us providing a platform to MPs to say what they like. David Cunliffe responds with his own tongue in cheek blog post to a post by Judith Collins.
A couple of months ago I was asked to write a post for the Ruminator and, rather optimistically, I agreed.The original brief was to respond to a post by Judith Collins. My post was going to be about snapper, not trout. But considering that issue, along with Judith's leadership aspirations, has floundered, I'll try another hook.
The temperature in Parliament is heating up. The newly united Opposition is revved up and holding the Government to account on multiple fronts. The Government is on the back foot trying to stamp out fires left, right and centre.
We are putting the Government's crony capitalism in the spotlight. The public is growing tired of John Key looking after his big business mates. They are sick to their stomachs of backroom deals done with for the likes of Warner Brothers, Rio Tinto, Sky City, Pike River and now possibly Chorus, while kids around the country are going to school hungry.
The writing is on the wall for the Government. National MPs are fleeing Parliament like Nats from a sinking ship. In the past few weeks at least half a dozen of the rabble have announced they are calling it quits at the next election. Chris Tremain, Kate Wilkinson, Paul Hutchison, Katrina Shanks, Chris Auchinvole, Cam Calder and Phil Heatley can't stand the thought of sitting on the Opposition benches.
John Key is desperate. His friends have self-destructed. ACT leader John Banks is in the dock for electoral fraud, Peter Dunne is in the throes of a mid-life crisis and the Māori Party is imploding.
John Key is so desperate he is publicly courting Colin Craig. This is a man that thinks sun spots and the alignment of the planets cause climate change. He is the man that slammed Kiwi women for allegedly being the most promiscuous in the world.
The Conservative Party is New Zealand's branch of the Tea Party, with Colin our very own Sarah Palin. Just imagine what will come out of his mouth next.
Colin Craig has now become National's only hope. We could hear all sorts of wacky ideas from the MPs he could bring in on his coattails. It will turn Parliament into even more of a circus.
It is even more galling that in 2009 Colin was John Key's enemy, funding a march to the tune of $450,000 to highlight National ignoring the smacking referendum.
So expect John Key to be having a cuppa with Colin before next year's election and urging National voters to back him in a new Auckland seat of North Harbour. Let's hope it doesn't go as badly as his 2011 Epsom stunt, for everyone's sake. Labour won't do dirty deals to win the election.
We are now a year out from the election and Labour is already in campaign mode. We are energised and fired up. Get ready for a new Government.
We invite contributions from politicians of any party – if you'd like to submit an article please contact us 
If you want to support the Ruminator, please consider making a donation via Givealittle.