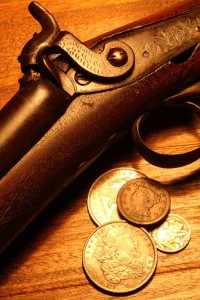 In response to today's piece on gun control in the US, Linoge, a reader in the United States had the following to say in rebuttal
To follow the same pattern as the article, I see three primary faults in it.
First, America is not a democracy, and, in fact, was specifically designed to not be a democracy, but rather be a constitutional republic. Why? Well, I will allow the Founding Fathers to speak for themselves.
From this view of the subject it may be concluded that a pure democracy, by which I mean a society consisting of a small number of citizens, who assemble and administer the government in person, can admit of no cure for the mischiefs of faction. A common passion or interest will, in almost every case, be felt by a majority of the whole; a communication and concert result from the form of government itself; and there is nothing to check the inducements to sacrifice the weaker party or an obnoxious individual. Hence it is that such democracies have ever been spectacles of turbulence and contention; have ever been found incompatible with personal security or the rights of property; and have in general been as short in their lives as they have been violent in their deaths. Theoretic politicians, who have patronized this species of government, have erroneously supposed that by reducing mankind to a perfect equality in their political rights, they would, at the same time, be perfectly equalized and assimilated in their possessions, their opinions, and their passions.
(Emphasis added.)
James Madison, again:
There is no maxim in my opinion which is more liable to be misapplied, and which therefore more needs elucidation than the current one that the interest of the majority is the political standard of right and wrong.
Democracy never lasts long. It soon wastes, exhausts and murders itself. There was never a democracy that did not commit suicide.
And there is Benjamin Franklin's famous, and possibly apocryphal response to the question of what kind of government they had just fabricated:
A Republic, if you can keep it.
I could go on, but you get the point.
But that brings us to the second problem with the article; the Constitution is so very hard to change because the Founding Fathers, and we, their ancestors, consider some rights to be inviolate, above and beyond the wishes and opinions of the masses. They spelled out those rights explicitly in the Declaration of Independence, but then they got into the nuts and bolts of those rights in the Constitution.
Two of those rights they valued were the right to life and the right to private property. Extending from the right to life is the right to defend that life (without the latter, the former is meaningless), and when that right to defense is combined with the right to private property, one arrives at the right to bear arms.
Remember that the Second Amendment, when it was drafted, specifically and intentionally protected the right to keep and bear contemporary military arms. The federal government, such as it was at the time, was still writing Letters of Marque, still employing privateers, and much of their military hardware was borrowed, rented, or bought from private persons. They had no problems with individual citizens owning cannon, and arguably encouraged it.
But that is rather besides my main point; majority rule does not change an Amendment of the Constitution without going through the appropriate channels, which is precisely why America is a republic, not a democracy.
And, coming at it from the other direction, if ~85% of Americans really do support certain "gun control" legislation (and having seen how those studies were conducted, I rather doubt it), then why not make an attempt at amending the Constitution? You are already well above the required number of states to accomplish it (assuming an even distribution of the poll respondents, which is rather the problem).
But no one has made such an attempt. Interesting, that.
And as for the final problem, I will just quote this to make it clear what I am responding to:
It's impossible to have a sensible conversation about something as fundamental as gun control with these intensely dogmatic folk.
Answer me this question: would you bother to have a "sensible" conversation with someone who wanted to enslave you?
Freedom from slavery is unquestionably a basic human right – as basic as the right to self-defense – and while it is one my own country chose to ignore for a not-insignificant portion of its history, if someone tried to convince me to surrender myself to slavery, I would instruct them to perform physiologically implausible acts upon themselves and go on my merry.
The same would happen if someone instructed me to burn my library of books.
The same would happen if someone demanded access to my home without warrant.
So why is it suddenly such a horrid thing to make a hard-and-fast stand on another Constitutionally-protected right? People are trying to unjustly limit, restrict, control, regulate, and outright destroy my rights; I fail to see why I have to be reasonable with them.
Well, nuts. Here I was not going to write a guest post, and this might as well be one. A few minor thoughts on my way out, though: first, calling people "loons" who "howl at the moon" is not a good way to put across the idea that you want a "sensible" conversation; if it were not for your remarkably reasonable Twitter conversation, I would have skipped this article in its entirety just on account of that. And second, limiting yourself to those two "fundamentally different groups" is a false dichotomy or hasty generalization, depending on how you look at it.
And, finally, just to leave you with an interesting thought: the Founding Fathers, when writing the Second Amendment, had just finished a nearly-decade-long war of brother-against-brother, liberty-against-tyranny, freedom-against-oppression, and, in the end, the disorganized and generally looked-down-upon colonists roundly spanked their orderly, organized imperial overlords. Is it really that bizarre of a thought that they would have protected their ancestors' right to do exactly that themselves, should the need ever arise in the future?
If you wish to know more on this debate, then Linoge has a website with heaps more information on this tricky issue