Oh hi! It's me, constant improvisor and international feminist killjoy Jennifer O'Sullivan, here to guide you in your navigation of the always-dude-heavy comedy festival programme and to remind you that yes, women are diligently doing their thing and carving out their place in the comedy world.*
If you've been playing this game of 'Spot The Ladies' with me the last few years, you'll know I take my counting very seriously. So seriously that I made GRAPHS about that counting. And to show you how seriously I still take it, here is my most recent graph: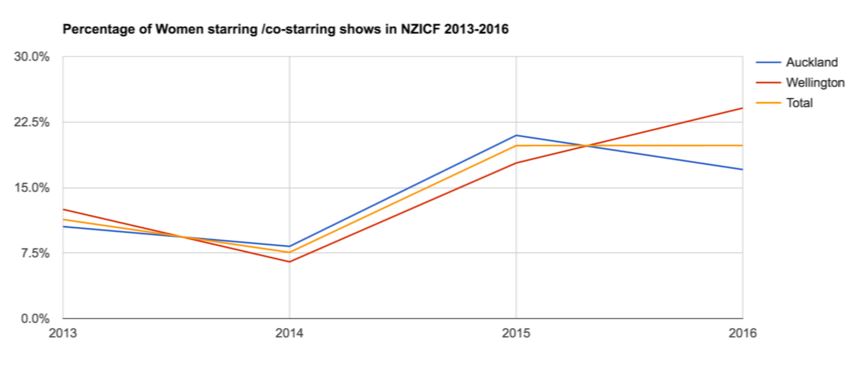 For those of you who didn't take Statistics at uni (C+, baby), let me talk you through what you're looking at.
For the last four years, I've divided the shows of the festival into three categories: shows starring or co-starring women, shows starring only men, and line up shows (these I keep separate because they often don't have their casting announced yet, though mostly they're full of dudes). The graph above displays the percentage of shows in that first category for 2013-16 for Wellington, Auckland, and both combined. Until this year, the lines have moved at the same pace, but 2016 has brought Wellington to its highest peak since I started (24%) while Auckland has dropped below 2015's figures (17%). Overall we're staying steady on 2015 with about 20% of shows starring or co starring women.
On the one hand, I'm stoked with Wellington's trajectory, and pleased to see us maintaining our place overall. On the other, I'm kind of disappointed that my initial personal response of 'Whoa, look at all the ladies!' after first seeing the programme is actually just my brain tricking me the way it tricks many of us – looking at a crowd with a female:male ratio of 1:4 and going 'Oh yeah, that looks about right'. Which, on the face of it… nope. It's not right.
But what I *did* notice is that while we've got about the same number of shows in this count, we've actually jumped up in terms of shows solely starring women. Of the Wellington shows, only three also feature men, and of Auckland, only two do! And we're up on solo shows too, 2015 had eight and 2016 has NINETEEN. That's more than double. I'm sure you would have worked that out but please, let me use this stats education for something worthwhile! Oh and did I mention that we have TWO female Billy T nominees this year? Blimmin great.  
In short, things look like they're starting to get good. They're not the greatest. But they're getting there. And while we get there, there are super great women doing super great comedy and they are clever and hilarious and honest and brave and I want us all to have the best time making and watching shows.
Alright. That's enough of my reckonings. Time to direct you to the most delightful array of women bringing the funny to Auckland and Wellington this year! I encourage you to do your own research in terms of what kind of comedy you're after, I'm not filtering by content or style here. There's plenty out there on the Comedy Festival website to help you choose further. But if you would like to specifically support women this year, here's where to start.
AUCKLAND ONLY
Alice Donna and Brynley in Sneddon, Brookbanks and Stent Ltd
Angella Dravid and Melanie Bracewell in Lol Models
Dialogue: Mum's The Word
Natasha Hoyland in Food For Thought
Renee Lyons in Tinderella
Rose Matafeo in Valley of the Lols
Sieni Leo Olo in Incarcerated Outcast
The Fan Brigade in Ask The Fan Brigade
Torum Heng in Keep Out Of My Box (And Other Useful Advice)
Melanie Bracewell, Tim Mueller and Dave Nicholls in Wash Your Mouth Out
WELLINGTON ONLY
Sophia Johnson and Cohen Holloway in 50 Minutes Plus Laughs
Molly Sokhom and Finn Roy in Not Your Mum's Tupperware Party
Lucy Roche and Savanna Calton in These Two Women Open Their Mouths…
Penny Ashton in Promise and Promiscuity
Rosie Cann in Chapstick
Rose Matefeo is Finally Dead
Saran and Anya in Ask Saranya: How Not To Be A Fuckwit
Taking Off The Bird Suit
BOTH
Adam Jacob and Kalyani in Three's a Crowd
Alice Brine in Brinestorm (Billy T Nominee!)
Alice Fraser in Savage
Angela Barnes in Come As You Are
Anya Tate Manning in An Hour With Ackbar
Beth Vyse in As Funny As Cancer
Felicity Ward in What If There Is No Toilet?
Juliette Burton in Look At Me
Laura Daniel in Pressure Makes Diamonds (Billy T Nominee!)
Louise Beuvink in Quarter-Life Crisis
Tessa Waters in WOMANz
Urzila Carlson in Unacceptable
Damn that is a lot of awesome! So many great shows to choose from! I would book RIGHT NOW if I were you!
But there's still work to do. And you know what? I get it. It's not fun or funny to be the person reminding you all that there's big imbalances in our industry. But you know what's less fun? Systematic sexism. Hostile work environments. Being the only woman on a lineup. Social conditioning that teaches us we're not supposed to be loud or funny or seek attention or speak our minds freely. Listening to our fellow comedians make jokes that degrade and dehumanise us. There's a lot going on in and around the comedy world that contributes to figures like these. If it bothers you, if it makes you uncomfortable to have to hear about this, you know what you can do to stop hearing about it?
Help us fix it.
* I'm very aware my methods are not scientific, or particularly intersectional at this stage. I haven't counted POC, or LGBT* performers (though I do my count by how the performers present/self identify, so trans men and women are included above), or other marginalised groups. I would love to talk to anyone who has and wants to compare notes or experiences. And I also welcome feedback or criticisms on this analysis and post, and promise not to be a jerk about it.**
** Unless your feedback is 'But women just don't LIKE being funny/Women aren't funny/Equally unnecessary misogynist commentary'. I'll be a real jerk then.